Synthesis on bioeconomy monitoring systems in the EU Member States - indicators for monitoring the progress of bioeconomy
Lier, Markus; Aarne, Martti; Kärkkäinen, Leena; Korhonen, Kari T.; Yli-Viikari, Anja; Packalen, Tuula (2018)
---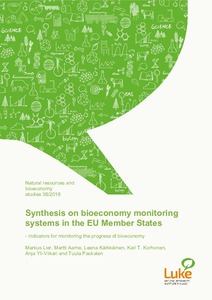 Lier, Markus
Aarne, Martti
Kärkkäinen, Leena
Korhonen, Kari T.
Yli-Viikari, Anja
Packalen, Tuula
Julkaisusarja
Natural resources and bioeconomy studies
Numero
38/2018
Sivut
44 p.
Luonnonvarakeskus
2018
Julkaisun pysyvä osoite on
http://urn.fi/URN:ISBN:978-952-326-607-0
Tiivistelmä
The urgent need to shift our economy towards a more sustainable, resource-efficient economy based on renewable resources that either makes less use of fossil resources or dispenses with them entirely, the so called bioeconomy, has been recognized all over Europe. As a result, many EU Member States (EU MS) have formulated national and regional bioeconomy strategies, related policies or initiatives. An important tool for the successful implementation of a strategy is the monitoring and evaluation of the success of the measures undertaken to reach the strategy´s goals.

The EC review report of the EU Bioeconomy strategy concluded the need for better monitoring and assessment frameworks, "new actions are needed to develop relevant indicators and scientific evidence for policy making, and to implement a more holistic monitoring and assessment framework" (EC 2017). However, up to now, there is no commonly agreed set of indicators to measure the bioeconomy at EU level.

Because the main drivers for the transition towards a bioeconomy often strongly vary between EU MS on the country-specific economic and ecological settings, legal framework, and social demands, also the national or regional bioeconomy strategies vary in their goals and measures. Consequently, proxies and indicators used to measure the development of a national bioeconomy or the success of a bioeconomy strategy depend on the national goals, and are therefore often not applicable in any other country. Nevertheless, synchronizing the national bioeconomy monitoring-activities is necessary to ensure comparability of the results of the national monitoring systems. As a first step towards a common European bioeconomy monitoring-activity, it is crucial to get an overview over the numerous scattered ongoing monitoring activities at EU MS level. Therefore, there is the need for an overview study presenting information on existing approaches of monitoring bioeconomy strategies in the EU MS.

This report presents an overview of existing bioeconomy strategies, policies or related initiatives and indicators to monitor and assess these at EU MS level, and the importance of existing bioeconomy sectors at national level. Furthermore, it presents the existing or needed most suitable bioeconomy key indicators and related indicators, and their respective data availability, for assessing and monitoring the progress of a bioeconomy at national level. The identified most suitable bioeconomy indicators important and feasible at the national context, can contribute to the further discussions when setting the frame for the development of a common EU bioeconomy monitoring system.