Mechanized tree planting in Finland and improving its productivity
Laine, Tiina (2017)
---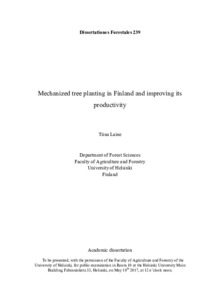 Julkaisusarja
Dissertationes Forestales
Numero
239
Sivut
48 p
The Finnish Society of Forest Science, University of Helsinki, University of Eastern Finland
2017
by-nd-nc
https://ojs.silvafennica.fi/index.php/dissertationes/about/submissions#copyrightNotice
The Author hereby assigns to the Finnish Society of Forest Science (hereafter "Publisher") right to publish this Contribution in the e-series Dissertationes Forestales. All dissertation summaries published in the Series shall be publicly available on the Internet according to the Creative Commons CC BY-NC-ND 4.0 Attribution-NonCommercial-NoDerivatives licence. The Author retains the copyright of his/her Contribution. The Publisher has the right to publish the Contribution and keep it available for the public in any current or future publishing format. Publisher may also transfer publishing rights and/or maintenance of the Dissertationes Forestales website to others who respect the CC BY-NC-ND 4.0 licence. If the Author deposits the Contribution in a personal, institutional, scientific, or professional repository, he/she shall use the final Publisher's version of Contribution. Link to the original publication shall be provided using its DOI number. The Author may grant wider reuse rights of the Contribution than provided by the CC BY-NC-ND 4.0 licence. In the event of receiving any request to republish all or part of the Contribution in a way not compatible with the CC BY-NC-ND 4.0 licence, the Publisher shall endeavour to obtain the approval of the Author prior to giving any such permission.
Julkaisun pysyvä osoite on
http://urn.fi/URN:NBN:fi-fe2018062826634
Tiivistelmä
The demand for mechanized tree planting is expected to increase in the future. This
dissertation assessed mechanized tree planting in Finland and suggests ways to improve its
current productivity. The work on which this thesis is based was described in five peer-reviewed
articles (I–V) addressing four specific research questions (SQs) that focus on
productivity and cost-competitiveness, automation, capacity utilization, and the quality of
planting work.
While productivity of mechanized planting is higher than manual methods, it is not yet
cost-competitive. However, increasing efficiency by skilled operators and worksite
selection make it possible for mechanized planting costs to remain lower than those of
excavator spot mounding followed by manual planting. Increasing productivity and
reducing operating costs are possible with an effective automatic seedling feeding system,
although the Risutec APC is not yet sufficiently developed to reach that goal. Planting
machine capacity is underutilized and could be utilized more effective to enhance
productivity and cost-efficiency. Technical availability of planting machines in Finland is
good, and the quality of mechanized planting work is high. Optimization and integration of
the entire mechanized planting chain from the nursery to outplanting is important to
minimize total cost.
In summary, for mechanized planting to be effective the following criteria must be
satisfied: machine reliability; highly-skilled machine operator; suitable worksite; seedling
quality, availability, and supply to worksite. In the future, it is important to continue
developing new and existing machines to enhance productivity, e.g., by continuously
working planting machines.