3rd Conference on Ecology of Soil Microorganisms
---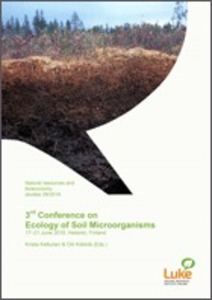 Toimittajat
Kettunen, Krista
Kiikkilä, Oili
Julkaisusarja
Natural resources and bioeconomy studies
Numero
29/2018
Sivut
223
Luonnonvarakeskus
2018
Julkaisun pysyvä osoite on
http://urn.fi/URN:ISBN:978-952-326-584-4
Tiivistelmä
We are pleased to welcome you to the 3rd conference on the Ecology of Soil Microorganisms in Helsinki, Finland. The two previous meetings were organized in Prague in 2011 and 2015 by Petr Baldrian. We are delighted to see that as many participants, 400 are joining us also under the midnight sun.
During the meeting, soil science will be linked with traditional microbiology and modern genomic, transcriptomic and proteomic analysis tools, extending from the soil-microbe interphase to their interactions with plants. Indeed, one important goal of the conference is to inspire us to bring forward new dimensions in the characterization of the interplay between soil microbial ecology and larger-scale processes in various ecosystems. In this meeting we will cover not only the role of soil microbiota but also their viruses. We hope that you take a moment to think of recent studies that have begun to unearth relationships found between soil microbes, plant performance and even human health. Sustainability of soils and their role in mitigation of climate change are key challenges for preserving life on Earth. As microbes are living functional components of soils, our focus during the week could not be timelier.
The organizers and the host organization Natural Resources Institute Finland wish you a fruitful and invigorating conference. We are excited that you have joined us here in Helsinki to promote state-of-the-art research in soil ecology under the northern midsummer madness!