Towards a breakthrough in nutrient recycling : State-of-the-art and recommendations for developing policy instruments in Finland
Marttinen, Sanna; Venelampi, Olli; Iho, Antti; Koikkalainen, Kauko; Lehtonen, Eeva; Luostarinen, Sari; Rasa, Kimmo; Sarvi, Minna; Tampio, Elina; Turtola, Eila; Ylivainio, Kari; Grönroos, Juha; Kauppila, Jussi; Koskiaho, Jari; Valve, Helena; Laine-Ylijoki, Jutta; Lantto, Raija; Oasmaa, Anja; zu Castell-Rüdenhausen, Malin (2018)
---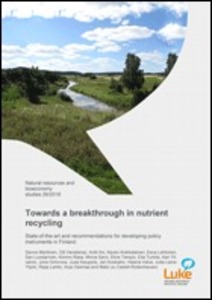 Marttinen, Sanna
Venelampi, Olli
Iho, Antti
Koikkalainen, Kauko
Lehtonen, Eeva
Luostarinen, Sari
Rasa, Kimmo
Sarvi, Minna
Tampio, Elina
Turtola, Eila
Ylivainio, Kari
Grönroos, Juha
Kauppila, Jussi
Koskiaho, Jari
Valve, Helena
Laine-Ylijoki, Jutta
Lantto, Raija
Oasmaa, Anja
zu Castell-Rüdenhausen, Malin
Julkaisusarja
Natural resources and bioeconomy studies
Numero
26/2018
Sivut
54 p
Luonnonvarakeskus
2018
© Luonnonvarakeskus
Julkaisun pysyvä osoite on
http://urn.fi/URN:ISBN:978-952-326-578-3
Kuvaus
The report has been complemented on 11.9.2018
Tiivistelmä
This report describes the state-of-the-art in phosphorus and nitrogen recycling in Finland and looks at basic data on the volumes and geographical distribution of biomasses and their nutrients. Based on this data, the report makes proposals for measures aiming to promote nutrient recycling. This report was prepared collaboratively by experts at the institutions making up the Finnish Partnership for Research on Natural Resources and the Environment (LYNET) to underpin a national action plan on nutrient recycling.

Of all sectors in Finland, agriculture is the largest user and recycler of phosphorus and nitrogen. Different biomasses contain an annual total of approximately 26,000 t of recyclable phosphorus, which exceeds the fertilisation needs of grasslands and cereal crops in the entire area of Finland. The volume of nitrogen contained in biomasses is approximately 95,000 t. Still, approx. 11,000 t of phosphorus and 152,000 t of nitrogen are annually used in Finland as conventional inorganic fertilisers.

There is a regional imbalance between manure production and crop nutrient requirements. The breakthrough in nutrient recycling means increased implementation of manure processing, thus making manure nutrients easier to transport and reducing the use of conventional inorganic fertilisers. At minimum 20% of the entire volume of manure generated in Finland will require advanced processing to enable long-distance transport of the manure phosphorus to areas in need of it. This requires separation of water. The highest demand for advanced processing is experienced in the regions of Ostrobothnia (approx. 60% at minimum), South Ostrobothnia and Satakunta (approx. 30 %) and Southwest Finland (13%).

In the agricultural sector, fertilisation is currently guided by a wide array of different policy instruments, which make up an incoherent and unstructured whole. The instruments cause considerable amounts of regulatory burden, but appear to do little to promote sustainable nutrient recycling.

This report proposes a total reform of the policy instruments to boost the recycling of nutrients. All legal standards related to fertilisation should be merged into a single statute, for example by developing the Nitrate Decree. At the same time, the current policy that controls nutrient use via the EU agri-environmental scheme should be abandoned, and the role of the environmental permit for livestock installations and its relationship with general regulatory instruments be clarified. A field plot specific nutrient database should be created to support guidance.

The knowledge base of nutrient recycling should be developed by creating and maintaining a comprehensive data system on the quantities, properties and locations of nutrient-rich biomasses and ashes and their current processing methods. The report also proposes setting regional processing targets for livestock manure. Key objectives should include reducing excessive fertilisation in crop production. The goal of normative guidance should be nutrient use according to the crop needs.