Genome-Wide Association Analyses Highlight the Potential for Different Genetic Mechanisms for Litter Size Among Sheep Breeds
Xu, Song-Song; Gao, Lei; Xie, Xing-Long; Ren, Yan-Ling; Shen, Zhi-Qiang; Wang, Feng; Shen, Min; Eyϸórsdóttir, Emma; Hallsson, Jón H.; Kiseleva, Tatyana; Kantanen, Juha; Li, Meng-Hua (2018)
---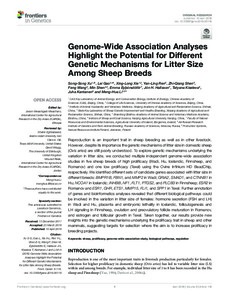 Xu, Song-Song
Gao, Lei
Xie, Xing-Long
Ren, Yan-Ling
Shen, Zhi-Qiang
Wang, Feng
Shen, Min
Eyϸórsdóttir, Emma
Hallsson, Jón H.
Kiseleva, Tatyana
Kantanen, Juha
Li, Meng-Hua
Julkaisusarja
Frontiers in Genetics
Volyymi
9
Sivut
14 p
2018
by
http://www.sherpa.ac.uk/romeo/issn/1664-8021/
https://www.frontiersin.org/journals/genetics/sections/livestock-genomics#about
https://creativecommons.org/licenses/by/4.0/deed.en
© 2018 Xu, Gao, Xie, Ren, Shen, Wang, Shen, Eyþórsdóttir, Hallsson, Kiseleva, Kantanen and Li. This is an open-access article distributed under the terms of the Creative Commons Attribution License (CC BY). The use, distribution or reproduction in other forums is permitted, provided the original author(s) and the copyright owner are credited and that the original publication in this journal is cited, in accordance with accepted academic practice. No use, distribution or reproduction is permitted which does not comply with these terms.