Finnish Normative Manure System : System documentation and first results
Luostarinen, Sari; Grönroos, Juha; Hellstedt, Maarit; Nousiainen, Jouni; Munther, Joonas (2017)
---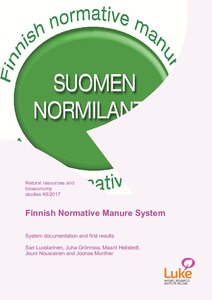 Luostarinen, Sari
Grönroos, Juha
Hellstedt, Maarit
Nousiainen, Jouni
Munther, Joonas
Julkaisusarja
Luonnonvara- ja biotalouden tutkimus
Numero
48/2017
Sivut
74 s.
Luonnonvarakeskus
2017
Julkaisun pysyvä osoite on
http://urn.fi/URN:ISBN:978-952-326-443-4
Tiivistelmä
This report contains the documentation of the first version of the Finnish Normative Manure System (FNMS). The system calculates Finnish manures as a mass balance starting from animal feeding and excretion (excretion ex animal) and considering national manure management in housing (manure ex housing) and manure storage (manure ex storage). The system calculates manures for 74 animal categories in four manure types (slurry, farmyard manure, deep litter and source-separated dung and urine). The total annual quantities of manure, dry matter, organic matter and nutrients (nitrogen, phosphorus, potassium) are reported per animal and per animal place (t/year). Also, the content of dry matter, organic matter and nutrients in manures are reported (kg/t). The system quantifies national manure amounts and their nutrient contents. It also enables calculation of regional manures. In addition, the calculation of biological methane production potential was included to enable estimation of biogas production potential from manure nationally and regionally. The calculation system works well and the results reported can be used for various purposes in policymaking, regulation, emission inventories, research and development all aiming at enhanced manure utilisation. The system can still benefit from developing especially the quality of the background data used. The system was created in co-operation with Luke and SYKE during 2014-2017. Financing for the system development was received from Finnish Ministry of the Environment (main project) and Ministry of Agriculture and Forestry (additional work e.g. related to excretion calculation and background data collection). A Finnish summary of this documentation report is also available (Luostarinen et al. 2017a).