A comparison of different methods in censusing the hazel grouse
Pakkala, T.; Tiainen, Juha; Linden, H.; Piiroinen, J.; Vickholm, M.; Virolainen, E. (1983)
---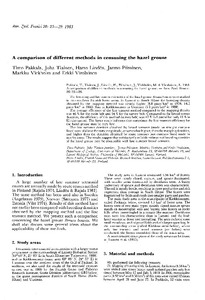 Pakkala, T.
Tiainen, Juha
Linden, H.
Piiroinen, J.
Vickholm, M.
Virolainen, E.
Julkaisusarja
Annales Zoologici Fennici
Volyymi
20
Sivut
25-29
Finnish Zoological and Botanical Publishing Board
1983
by
http://www.sekj.org/AnnZool.html
The Board will allow the author(s) to reproduce or re-use parts of their original material without permission. If, however, the author(s) wishes to include the entire article in another publication, a separate permission issued by the Board should be obtained. In a new publication an appropriate acknowledgement(s) should be placed. The Board assumes that such a publication will not be commercially distributed (sold); otherwise a financial compensation for reproducing the article(s) may apply.