Tree invasions and biosecurity: eco-evolutionary dynamics of hitchhiking fungi
Burgess, Tr. I.; Crous, C. J.; Slippers, B.; Hantula, Jarkko; Wingfield, M. J. (2016)
---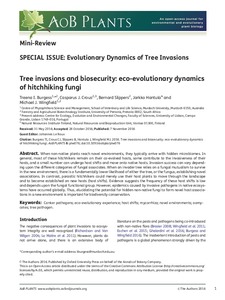 Burgess, Tr. I.
Crous, C. J.
Slippers, B.
Hantula, Jarkko
Wingfield, M. J.
Julkaisusarja
AoB Plants
Volyymi
8
Sivut
10 p
Oxford University Press
2016
by
https://academic.oup.com/aobpla/pages/oa_copyright
This is an Open Access article distributed under the terms of the Creative Commons Attribution License (http://creativecommons.org/ licenses/by/4.0/), which permits unrestricted reuse, distribution, and reproduction in any medium, provided the original work is properly cited.