Digital photography for assessing the link between vegetation phenology and CO2 exchange in two contrasting northern ecosystems
Linkosalmi, M.; Aurela, M.; Tuovinen, J.-P.; Peltoniemi, Mikko; Tanis, C. M.; Arslan, A. N.; Kolari, P.; Böttcher, K.; Aalto, T.; Rainne, J.; Hatakka, J.; Laurila, T. (2016)
---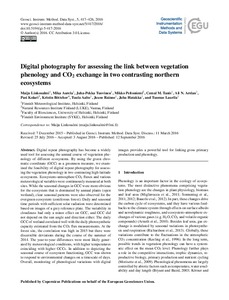 Linkosalmi, M.
Aurela, M.
Tuovinen, J.-P.
Peltoniemi, Mikko
Tanis, C. M.
Arslan, A. N.
Kolari, P.
Böttcher, K.
Aalto, T.
Rainne, J.
Hatakka, J.
Laurila, T.
Julkaisusarja
Geoscientific Instrumentation Methods and Data Systems
Volyymi
5
Sivut
417-426
Copernicus Publications
2016
by
http://www.geoscientific-instrumentation-methods-and-data-systems.net/about/licence_and_copyright.html
For any reuse or distribution, it must be made clear to others what the licence terms of this work are. Any of these conditions can be waived if the copyright holders give permission. Nothing in this licence impairs or restricts the author's moral rights.