Fireweed, roseroot, Bergenia and chokeberry – joint research for supporting the herb production
---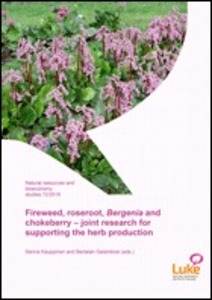 Toimittajat
Kauppinen, Sanna
Galambosi, Bertalan
Julkaisusarja
Natural resources and bioeconomy studies
Numero
72/2016
Sivut
79 s.
Natural Resources Institute Finland, Luke
2016
All rights reserved
Copyright: Natural Resources Institute Finland (Luke)
Julkaisun pysyvä osoite on
http://urn.fi/URN:ISBN:978-952-326-338-3
Tiivistelmä
In this publication you find the main results of the project called "Special crop education for economic development in North-West Russia and South-East Finland SPECICROP". These results concern the fermentation methods of fireweed and Bergenia leaves, measurements of active substances of different roseroot strains, the effect of Bergenia leaf extract for the endurance of sportsmen, the effect of chokeberry for blood pressure and inflammatory factors and the development of herb production in Leningrad area and Finland.
Infusion from fermented Epilobium angustifolium L. leaves (Ivan tsay, Koporye tea) is traditionally consumed in Russia for the treatment of stomach ulceration, gastritis, and sleeping disorders. The traditional production method of Ivan tea includes of several labour-consuming steps. During 2012–2014 in the frame of SPECICROP project a semi-industrial fermentation process of shoots of fireweed was studied. On the base of these experiments we concluded that there is a possibility to produce Ivan tea commercially from a 40 cm shoot yield instead of leaves. The steps and the optimized parameters of the process are described on the proposed technological recommendation. The production process can be reproduced in the conditions of small-scale enterprises.
During the domestication experiments of Rhodiola rosea, a collection of roseroot strains from different geographical origins was created at Mikkeli, South-East Finland. The aims of this study was to compare the root biomass and salidroside and total rosavin contents of different accessions and to choose the best accessions for further propagation. Six accessions containing high salidroside and total rosavin contents were chosen for saving in the official Finnish medicinal plant gene collection.
The leaves of the commonly known decorative perennial, Bergenia species have several interesting biological activities. The green leaves contain arbutin up to 22% (d.w.), a compound, which is used in cosmetic industry as a skin-whitening agent in humans. Infusion prepared from the naturally fermented black leaves is used as a tea in Russian ethno medicine. For the utilization of new possibilities of Bergenia species during 2012–2014 several studies were carried out in SPECICROP project for elaborating a semi-industrial fermentation process of Bergenia leaf yield.
In the previous studies it was shown that supplementation of animals with the extract from fermented leaves of Bergenia enhanced the maximum swimming capacity of mice. In the SPECICROP project it was studied whether Bergenia leaf extract has any effects on endurance exercise capacity or muscle strength of a human. The study included two experimental designs: to investigate the acute effects and the effect of 7-day use of Bergenia. The results of the present study showed that the Bergenia supplementation with the current doses of 100–400 mg does not have almost any effect on endurance and maximal force characteristics in physically active men. Bergenia supplementation did not cause any negative effects on the present subjects either. Probably other dose ranges would be more correct for future human experiments.
In Specicrop project we studied effects of different dosages of Finnish chokeberry (X Sorbaronia mitschurinii, var. Viking) juice on blood pressure of the spontaneously hypertensive rats. We also measured the inflammatory cytokines in rat blood in order to see the potential beneficial effects of the chokeberry juice on chronic inflammation which is typical in hypertension. The study provided encouraging data.
During the last decade the interest for domestic grown herb raw material has increased among pharmaceutical companies in the Leningrad region, Russia. There are eight vocational agricultural colleges in the Leningrad region, and none of them has taught herb cultivation. There is a lack of cultivation expertise, also in herb cultivation education material. Due to the cross border cooperation with the support of EU Interreg and ENPI programs, during 1995–2014 several projects have resulted specialisation for herb education in the Begunitsky Agrotechnological College, in connections with Finnish institutes. Due to the similar northern climate conditions in regions of South-East Finland and North-West Russia, the cooperation focused on cold tolerant medicinal and berry and fruit plants. One of the aims was to transfer the methods of cultivation obtained in small-scale herb farms in Finland into Russia. In addition to an update, modern herb-cultivation teaching material was produced in Finnish and Russian.
Tähän julkaisuun on koottu "Special crop education for economic development in North-West Russia and South-East Finland SPECICROP" -hankkeen merkittävimmät tulokset. Ne käsittelevät maitohorsman ja vuorenkilven lehtien fermentointimenetelmiä, eri ruusujuurikantojen vaikuttavien aineiden pitoisuuksia, vuorenkilven vaikutusta ihmisen suorituskykyyn, marjapihlonian (aik. marja-aronia) vaikutusta verenpaineeseen ja tulehdustekijöihin sekä yrttiopetuksen kehittämistä Leningradin alueella ja Suomessa.
Maitohorsman (Epilobium angustifolium L.) fermentoiduista lehdistä valmistettua teetä käytetään Venäjällä perinteisesti vatsahaavojen, mahakatarrin ja nukkumisvaikeuksien hoitoon. Maitohorsmateen perinteinen valmistusmenetelmä sisältää useita käsityötä vaativia vaiheita. Vuosien 2012–14 aikana SPECICROP-hankkeessa tehtiin useita koesarjoja joissa fermentoitua teetä valmistettiin maitohorsman versoista. Tuloksien pohjalta todettiin, että tee voidaan valmistaa kaupallisessa mittakaavassa maitohorsman 40 cm pitkistä tuoreista versoista. Tuotantoprosessin eri vaiheet optimoitiin ja ne esitellään ehdotetussa tuotantomenetelmässä. Kuvattu menetelmä sopii pienen yrityksen olosuhteisiin.
Mikkeliin kerättiin aikoinaan kokoelma ruusujuuria (Rhodiola rosea) eri puolilta maailmaa. SPECICROP-hankkeen kokeissa vertailtiin ruusujuurikantojen eroja juuren biomassan ja kahden vaikuttavan aineen (salidrorosidi ja rosaviini) suhteen sekä valittiin parhaimmat kannat jatkoviljelyyn. Kuusi ruusujuurikantaa, joiden salidrosidi- ja kokonaisrosaviinipitoisuudet olivat korkeat, valittiin talletettavaksi Suomen viralliseen lääkekasvien geenivarakokoelmaan.
Puutarhojemme suositun perennan vuorenkilven (Bergenia sp.) vihreät lehdet sisältävät jopa 22 % kuivapainostaan arbutiinia, jota käytetään kosmetiikkateollisuudessa ihon vaalentamisaineena. Luonnollisesti fermentoiduista mustista lehdistä valmistetaan Venäjällä teetä, jota käytetään kansanlääkinnässä. Hyödyntääksemme vuorenkilven uusia mahdollisuuksia kehitimme sen lehtisadolle tuotantomittakaavaisen fermentointimenetelmän.
Aikaisemmassa tutkimuksessa on osoitettu, että käyneiden Bergenia lehtien uutteella voidaan parantaa hiirien maksimaalista uintisuoritusta kontrolliryhmään verrattuna. SPECICROP-hankkeessa selvitettiin Bergenia-ravintolisän vaikutusta ihmisen kestävyys- ja voimaominaisuuksiin. Tutkimuksessa oli kaksi koeasetelmaa: Bergenia ravintolisän akuuttivaikutus sekä yhden viikon päivittäisen käytön vaikutus. Tutkimuksen tulokset osoittivat, että käytetyillä 100–400 mg:n Bergenia-ravintolisäannoksilla ei ollut juuri minkäänlaisia vaikutuksia kestävyys- tai voimaominaisuuksiin liikuntaa harrastavilla miehillä. Myöskään haittavaikutuksia ei ilmennyt. Tulevaisuudessa pitäisi kokeilla muita annoskokoja.
SPECICROP–hankkeessa tutkittiin myös suomalaisesta marjapihloniasta (X Sorbaronia mitschurinii, lajike 'Viking') tehdyn mehun vaikutuksia erisuuruisina annoksina rottiin, joilla oli synnynnäinen verenpainetauti. Mittasimme myös rottien veren tulehduksen merkkiaineita, jotta saataisiin selville vaikuttaako aroniamehu verenpainetaudille tyypilliseen krooniseen tulehdukseen. Tutkimuksesta saatiin rohkaisevia tuloksia.
Viimeisen vuosikymmenen aikana venäläisten lääkeyritysten kiinnostus kotimaassa kasvatettua yrttiraaka-ainetta kohtaan on kasvanut Leningradin alueella. Tällä alueella toimii kahdeksan maatalousoppilaitosta, mutta yksikään niistä ei opeta yrttiviljelyä. Yrttiviljelyasiantuntemuksesta samoin kuin yrttiviljelyn opetusmateriaalista on puute. Rajat ylittävän yhteistyön avulla ja EU Interreg- ja ENPI-ohjelmien avustuksella vuosina 1995–2014 useat hankkeet kehittivät Begunitsyn maatalousoppilaitoksen yrttiviljelyopetusta suomalaisten organisaatioiden tuella. Kaakkois Suomessa ja Luoteis-Venäjällä on samanlainen pohjoinen ilmasto, joten yhteistyö keskittyi talvenkestäviin yrtti- ja rohdoskasveihin sekä marjoihin ja hedelmiin. Yhteistyön yhtenä tavoitteena oli siirtää pienten suomalaisten yrtti- ja marjatilojen toimintamallia Venäjälle. Lisäksi SPECICROP-hankkeessa tuotettiin yrttiopetusmateriaalia suomeksi ja venäjäksi.