Geographic variation in Festuca rubra L. ploidy levels and systemic fungal endophyte frequencies
Dirihan, Serdar; Helander, Marjo; Väre, Henry; Gundel, Pedro E.; Garibaldi, Lucas A.; Irisarri, J. Gonzalo N.; Saloniemi, Irma; Saikkonen, Kari (2016)
---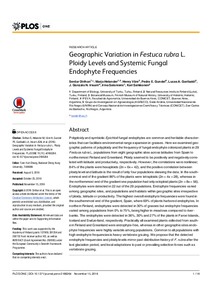 Dirihan, Serdar
Helander, Marjo
Väre, Henry
Gundel, Pedro E.
Garibaldi, Lucas A.
Irisarri, J. Gonzalo N.
Saloniemi, Irma
Saikkonen, Kari
Julkaisusarja
PLoS ONE
Volyymi
11
Numero
11
Sivut
16 p
Public Library of Science
2016
by
http://journals.plos.org/plosone/s/journal-information#loc-open-access
PLOS applies the Creative Commons Attribution (CC BY) license to works we publish. This license was developed to facilitate open access – namely, free immediate access to, and unrestricted reuse of, original works of all types. Under this license, authors agree to make articles legally available for reuse, without permission or fees, for virtually any purpose. Anyone may copy, distribute, or reuse these articles, as long as the author and original source are properly cited.