Different relationship between hsp70 mRNA and hsp70 levels in the heat shock response of two salmonids with dissimilar temperature preference
Lewis, Mario; Götting, Miriam; Anttila, Katja; Kanerva, Mirella; Prokkola, Jenni M.; Seppänen, Eila; Kolari, Irma; Nikinmaa, Mikko (2016)
---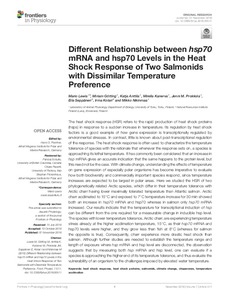 Lewis, Mario
Götting, Miriam
Anttila, Katja
Kanerva, Mirella
Prokkola, Jenni M.
Seppänen, Eila
Kolari, Irma
Nikinmaa, Mikko
Julkaisusarja
Frontiers in Physiology
Volyymi
7
Sivut
12 p
Frontiers Media
2016
by
http://journal.frontiersin.org/journal/physiology#about
Open Access funder and institutional mandates: Frontiers is fully compliant with open access mandates, by publishing its articles under the Creative Commons Attribution licence (CC-BY). Funder mandates such as those by the Wellcome Trust (UK), National Institutes of Health (USA) and the Australian Research Council (Australia) are fully compatible with publishing in Frontiers. Authors retain copyright of their work and can deposit their publication in any repository. The work can be freely shared and adapted provided that appropriate credit is given and any changes specified.