Trends in soil solution dissolved organic carbon (DOC) concentrations across European forests
Camino-Serrano, Marta; Graf Pannatier, Elisabeth; Vicca, Sara; Luyssaert, Sebastiaan; Jonard, Mathieu; Ciais, Philippe; Guenet, Bertrand; Gielen, Bert; Penuelas, Josep; Sardans, Jordi; Waldner, Peter; Etzold, Sophia; Cecchini, Guia; Clarke, Nicholas; Galic, Zoran; Gandois, Laure; Hansen, Karin; Johnson, Jim; Klinck, Uwe; Lachamanova, Zora; Lindroos, Antti-Jussi; Meesenburg, Henning; Nieminen, Tiina M.; Sanders, Tanja G. M.; Sawicka, Kasia; Seidling, Walter; Thimonier, Anne; Vanguelova, Elena; Verstraeten, Arne; Vesterdal, Lars; Janssens, Ivan A. (2016)
---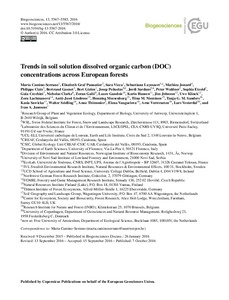 Camino-Serrano, Marta
Graf Pannatier, Elisabeth
Vicca, Sara
Luyssaert, Sebastiaan
Jonard, Mathieu
Ciais, Philippe
Guenet, Bertrand
Gielen, Bert
Penuelas, Josep
Sardans, Jordi
Waldner, Peter
Etzold, Sophia
Cecchini, Guia
Clarke, Nicholas
Galic, Zoran
Gandois, Laure
Hansen, Karin
Johnson, Jim
Klinck, Uwe
Lachamanova, Zora
Lindroos, Antti-Jussi
Meesenburg, Henning
Nieminen, Tiina M.
Sanders, Tanja G. M.
Sawicka, Kasia
Seidling, Walter
Thimonier, Anne
Vanguelova, Elena
Verstraeten, Arne
Vesterdal, Lars
Janssens, Ivan A.
Julkaisusarja
Biogeosciences
Volyymi
13
Sivut
5567-5585
European Geosciences Union
2016
by
http://www.biogeosciences.net/about/licence_and_copyright.html
Anyone is free Share to share — to copy, distribute, and transmit the work Remix to remix — to adapt the work under the following conditions: Attribution Attribution — The original authors must be given credit. For any reuse or distribution, it must be made clear to others what the licence terms of this work are. Any of these conditions can be waived if the copyright holders give permission. Nothing in this licence impairs or restricts the author's moral rights.