Evaluating the performance of land surface model ORCHIDEE-CAN v1.0 on water and energy flux estimation with a single- and multi-layer energy budget scheme
Chen, Yiying; Ryder, James; Bastrikov, Vladislav; McGrath, Matthew J.; Naudts, Kim; Otto, Juliane; Ottle, Catherine; Peylin, Philippe; Polcher, Jan; Valade, Aude; Black, Andrew; Elbers, Jan A.; Moors, Eddy; Foken, Thomas; van Gorsel, Eva; Haverd, Vanessa; Heinesch, Bernard; Tiedemann, Frank; Knohl, Alexander; Launiainen, Samuli; Loustau, Denis; Ogee, Jerome; Vessala, Timo; Luyssaert, Sebastiaan (2016)
---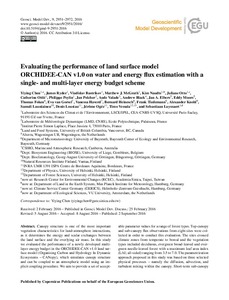 Chen, Yiying
Ryder, James
Bastrikov, Vladislav
McGrath, Matthew J.
Naudts, Kim
Otto, Juliane
Ottle, Catherine
Peylin, Philippe
Polcher, Jan
Valade, Aude
Black, Andrew
Elbers, Jan A.
Moors, Eddy
Foken, Thomas
van Gorsel, Eva
Haverd, Vanessa
Heinesch, Bernard
Tiedemann, Frank
Knohl, Alexander
Launiainen, Samuli
Loustau, Denis
Ogee, Jerome
Vessala, Timo
Luyssaert, Sebastiaan
Julkaisusarja
Geoscientific Model Development
Volyymi
9
Sivut
2951-2972
Copernicus Publications
2016
by
http://www.geoscientific-model-development.net/about/licence_and_copyright.html
Licence and copyright agreement The following licence and copyright agreement is valid for any article published by Copernicus Publications on behalf of the European Geosciences Union (EGU) in the journal Geoscientific Model Development and its discussion forum Geoscientific Model Development Discussions. Author's certification Copyright The copyright of any article is retained by the author(s). More information on the transfer of copyright can be found below. Authors grant Copernicus Publications a licence to publish the article and identify itself as the original publisher. Authors grant Copernicus Publications commercial rights to produce hardcopy volumes of the journal for purchase by libraries and individuals. Authors grant any third party the right to use the article freely under the stipulation that the original authors are given credit and the appropriate citation details are mentioned. The article is distributed under the Creative Commons Attribution 3.0 License. Unless otherwise stated, associated published material is distributed under the same licence.