Domesticated animal biobanking: Land of opportunity
Groeneveld, Linn F.; Gregusson, Sigbjørn; Guldbrandtsen, Bernt; Hiemstra, Sipke J.; Hveem, Kristian; Kantanen, Juha; Lohi, Hannes; Stroemstedt, Lina; Berg, Peer (2016)
---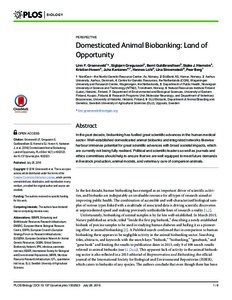 Groeneveld, Linn F.
Gregusson, Sigbjørn
Guldbrandtsen, Bernt
Hiemstra, Sipke J.
Hveem, Kristian
Kantanen, Juha
Lohi, Hannes
Stroemstedt, Lina
Berg, Peer
Julkaisusarja
PLoS Biology
Volyymi
14
Numero
7
Sivut
6 p
Public Library of Science
2016
by
http://journals.plos.org/plosbiology/s/journal-information#loc-open-access
PLOS applies the Creative Commons Attribution (CC BY) license to works we publish. This license was developed to facilitate open access – namely, free immediate access to, and unrestricted reuse of, original works of all types. Under this license, authors agree to make articles legally available for reuse, without permission or fees, for virtually any purpose. Anyone may copy, distribute, or reuse these articles, as long as the author and original source are properly cited. Read more about our content license.