A European database of Fusarium graminearum and F. culmorum trichothecene genotypes
Pasquali, Matias; Beyer, Marco; Logrieco, Antonio; Audenaert, Kris; Balmas, Virgilio; Basler, Ryan; Boutigny, Anne-Laure; Chrpova, Jana; Czembor, Elzbieta; Gagkaeva, Tatiana; Gonzalez-Jaen, Maria T.; Hofgaard, Ingerd S.; Köycü, Nagehan D.; Hoffmann, Lucien; Levic, Jelena; Marin, Patricia; Miedaner, Thomas; Migheli, Quirico; Moretti, Antonio; Müller, Marina E. H.; Munaut, Francoise; Parikka, Päivi; Pallez-Barthel, Marine; Piec, Jonathan; Scauflaire, Jonathan; Scherm, Barbara; Stankovic, Slavica; Thrane, Ulf; Uhlig, Silvio; Vanheule, Adriaan; Yli-Mattila, Tapani; Vogelgsang, Susanne (2016)
---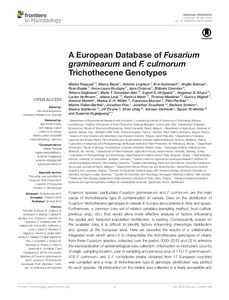 Pasquali, Matias
Beyer, Marco
Logrieco, Antonio
Audenaert, Kris
Balmas, Virgilio
Basler, Ryan
Boutigny, Anne-Laure
Chrpova, Jana
Czembor, Elzbieta
Gagkaeva, Tatiana
Gonzalez-Jaen, Maria T.
Hofgaard, Ingerd S.
Köycü, Nagehan D.
Hoffmann, Lucien
Levic, Jelena
Marin, Patricia
Miedaner, Thomas
Migheli, Quirico
Moretti, Antonio
Müller, Marina E. H.
Munaut, Francoise
Parikka, Päivi
Pallez-Barthel, Marine
Piec, Jonathan
Scauflaire, Jonathan
Scherm, Barbara
Stankovic, Slavica
Thrane, Ulf
Uhlig, Silvio
Vanheule, Adriaan
Yli-Mattila, Tapani
Vogelgsang, Susanne
Julkaisusarja
Frontiers in Microbiology
Volyymi
7
Sivut
11 p
Frontiers Media
2016
by
http://journal.frontiersin.org/journal/microbiology#about
Open Access funder and institutional mandates: Frontiers is fully compliant with open access mandates, by publishing its articles under the Creative Commons Attribution licence (CC-BY). Funder mandates such as those by the Wellcome Trust (UK), National Institutes of Health (USA) and the Australian Research Council (Australia) are fully compatible with publishing in Frontiers. Authors retain copyright of their work and can deposit their publication in any repository. The work can be freely shared and adapted provided that appropriate credit is given and any changes specified.