Scenario analysis for the biomass supply potential and the future development of Finnish forest resources
Hynynen, Jari; Salminen, Hannu; Ahtikoski, Anssi; Huuskonen, Saija; Ojansuu, Risto; Siipilehto, Jouni; Lehtonen, Mika; Rummukainen, Arto; Kojola, Soili; Eerikäinen, Kalle (2014)
---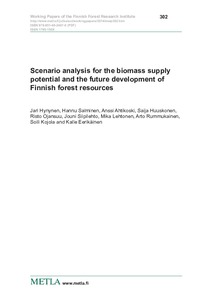 Hynynen, Jari
Salminen, Hannu
Ahtikoski, Anssi
Huuskonen, Saija
Ojansuu, Risto
Siipilehto, Jouni
Lehtonen, Mika
Rummukainen, Arto
Kojola, Soili
Eerikäinen, Kalle
Julkaisusarja
Metlan työraporttejaWorking Papers of the Finnish Forest Research Institute
Numero
302
Sivut
106 p.
Finnish Forest Research Institute Metsäntutkimuslaitos
2014
Julkaisun pysyvä osoite on
http://urn.fi/URN:ISBN:978-951-40-2487-0
Kuvaus
Layout: Anne Siika, Metla
Tiivistelmä
The potential, cost-efficiency and impacts of intensified management of Finnish forests for next 100 years were assessed using a national-level scenario analysis. This document serves as a technicaldescription of the applied models and methods, but also includes a brief synthesis of the results. Data from the 10th Finnish National Forest Inventory was used to forecast the consequences of alternative management scenarios. Four final scenarios were constructed using MOTTI stand simulator and linear programming package J. Business-as-usual scenario was compared to three other options that aimed either at high quality raw material, intensive management resulting both quantity and quality of timber, or at low-cost-low-output (extensive) forestry.If the intensity of forest management will remain at the current level, the growing stock will increase. Increasing amount of high quality raw material for forest industry can be produced but it necessitates also increase in annual management practices. For example, treatment areas of young stand management should be doubled compared to current areas in order to maintain or increase cuttingremovals of high quality wood. It is possible to increase annual removals in a sustainable manner by applying more intensive forest management that also improves profitability nearly 50%. The annualremovals can be ca. 40% higher than the current level, and the annual energy wood removal can be over 10 mill m3. Despite increased removals, sustainable wood and biomass production during next 100years can be achieved.Intensively managed forest are more efficient capturing carbon from atmosphere than extensively managed forests, but the climate impacts depend on the use of removed carbon (end-products made from the removed wood biomass).