FinCOSPAR 2013 - Abstracts 29 -30th August, Vantaa, Finland
---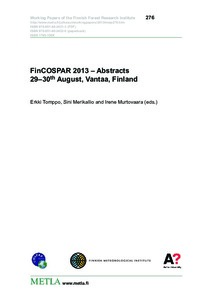 Toimittajat
Tomppo, Erkki
Merikallio, Sini
Murtovaara, Irene
Julkaisusarja
Metlan työraporttejaWorking Papers of the Finnish Forest Research Institute
Numero
276
Sivut
74 p.
Finnish Forest Research Institute Metsäntutkimuslaitos
2013
Julkaisun pysyvä osoite on
http://urn.fi/URN:ISBN:978-951-40-2431-3
Kuvaus
Layout: Irene Murtovaara/Metla
Tiivistelmä
The Committee on Space Research (COSPAR) was established by the International Council for Science(ICSU) in 1958 as an interdisciplinary scientific body concerned with the progress on an internationalscale of all kinds of scientific investigations carried out with space vehicles, rockets and balloons . Finland became a member of COSPAR a few years later, on June 2, 1964. The first Finnishspace science conference was organized in 1987 at Hotel Rantasipi Hyvinkää. Since then, multiple FinCOSPAR meetings have brought together space scientists in Finland to venues from the southern seas to North Finland. The XIV meeting, FinCOSPAR 2013 takes place at the premises of the Finnish Forest Research Institute, METLA, in Tikkurila, Vantaa. The link to space sciences of this new venue is the operational use of space-borne remote sensing in monitoring forests.The presentations of FinCOSPAR 2013 include various corners of the space sciences, varying from space-borne remote sensing of the Earth to the planetary sciences and deep sky observations. The program consists of four invited presentations and 48 contributed talks or posters. Furthermore, the strategy by Tekes the Finnish Funding Agency for Technology and Innovation for space activities for years 2013 2020 will be introduced. The participants range from university students to the professors and on the other hand also from secretary to the chief editor of the most popular astronomy magazine of the Nordic countries. The program and the abstracts of the meeting are collected into this Working Paper volume by Metla.