Peat ash as a fertilizer on drained mires effects on the growth and nutritional status of Scots pine
Moilanen, Mikko; Issakainen, Jorma; Silfverberg, Klaus (2012)
---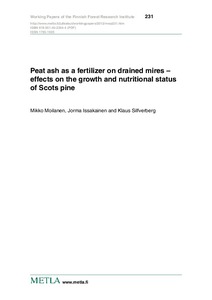 Moilanen, Mikko
Issakainen, Jorma
Silfverberg, Klaus
Julkaisusarja
Metlan työraporttejaWorking Papers of the Finnish Forest Research Institute
Numero
231
Sivut
20 p.
Finnish Forest Research Institute Metsäntutkimuslaitos
2012
Julkaisun pysyvä osoite on
http://urn.fi/URN:ISBN:978-951-40-2364-4
Kuvaus
Layout: Irene Murtovaara
Tiivistelmä
Finland s drained forested mires include approximately one million hectares of tree stands that require phosphorus and potassium treatments 1 2 times per generation to ensure sustainable nutrient status for tree growth. 300 000 400 000 tonnes of peat ash and mixed peat and wood ash are produced annually by Finland s energy production. Peat ash contains plant nutrients, e.g. phosphorus, and thus is a potential fertilizer in forestry. This study examines the effects of peat ash fertilization on the nutritional status and growth of Scots pine (Pinus sylvestris L.) on drained mire areas in which the trees were suffering from P and K deficiencies of varying degree. Peat ash increased the volume growth of the stands, and the effect was progressively stronger all the way to the end of the study period, 30 years from the treatment. After 10 30 years, stand growth was 30 60% higher than on the unfertilized control, and the yearly increase in growth caused by the ash was 0.8 1.8 m3 ha-1. The growth response was, however, clearly smaller than that gained with wood ash on similar sites. Peat ash increased needle P concentrations to above the deficiency limit, but also seemed to aggravate K deficiency. Peat ash combined with potassium (from potassium chloride, K+micronutrient fertilizer or biotite) had a much more pronounced growth effect than peat ash alone and was comparable to PK-fertilizers or wood ash: the annual increase in Scots pine growth was 4 6 m3 ha-1 at its strongest. In practice, dosages larger than 5 t ha-1 of peat ash are not necessary when ameliorating P deficiencies.