Comparison of Wood Based Energy Related Policies in Russia and Finland: Case Study of the Republic of Karelia and North Karelia
Muñoz, Isabel; Goltsev, Vadim (2012)
---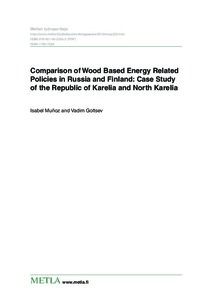 Muñoz, Isabel
Goltsev, Vadim
Julkaisusarja
Metlan työraporttejaWorking Papers of the Finnish Forest Research Institute
Numero
225
Sivut
40 p.
Finnish Forest Research Institute Metsäntutkimuslaitos
2012
Julkaisun pysyvä osoite on
http://urn.fi/URN:ISBN:978-951-40-2355-2
Kuvaus
Layout: Sisko Salminen, Metla
Tiivistelmä
The present analysis reports on key policy documents regarding wood based energy in Russia and Fin- land and their development in regional plans. A comparison of key policy and legislative documents regarding wood based energy is developed. Furthermore, the study highlights the impact of climate and energy policies developed at international and community level on the selected countries performances.The results suggest that international and community treaties have had a positive effect on wood based energy policies in both countries. However, the measures adopted at national level are developing at a different pace. While Finland has a wide variety of policy documents promoting wood based energy, more specific policies and measures are needed on the Russian side.Regarding regional policies performance, wood based energy is gaining importance. The development of renewable energy from wood is seen as positive in both the Republic of Karelia (Russia) and the province of North Karelia (Finland). Nevertheless, in Russia, more supportive measures from the State and attracting investors are crucial to strengthen the wood based energy sector within the Republic of Karelia.