ROOTS 2011 WORKSHOP, Abstracts, Joensuu, Finland,13- 14 December 2011
---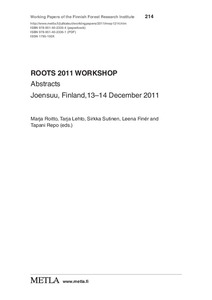 Toimittajat
Roitto, Marja
Lehto, Tarja
Sutinen, Sirkka
Finér, Leena
Repo, Tapani
Julkaisusarja
Metlan työraporttejaWorking Papers of the Finnish Forest Research Institute
Numero
214
Sivut
39 p.
Finnish Forest Research Institute Metsäntutkimuslaitos
2011
Julkaisun pysyvä osoite on
http://urn.fi/URN:ISBN:978-951-40-2336-1
Kuvaus
Layout: Marja Roitto
Tiivistelmä
The ROOTS 2011 workshop will be organized in Joensuu on the 13th -14th December, jointly by Metla, Joensuu Research Unit and the University of Eastern Finland, School of ForestSciences. The workshop aims to provide an update to current root research in Finland. The previous root seminar was held in Joensuu 13 years ago. Meanwhile quite a lot of water has passed in the Pielisjoki river, and much new knowledge has accumulated concerning growth and function of roots to be discussed. The current meeting brings together 40 scientists working in the field of root research. The topics of the presentations deal with innovativemethodological developments, studies on responses of roots to environmental stresses and root biomass and dynamics in different environments. This Working Paper includes the abstracts of 21 oral presentations and 8 posters. We hope that the workshop will serve as a way for networking between senior and junior researchers, and would provide a forum for fruitful discussions concerning the current hot topics in root research.