John Derome – Ambassador for forest monitoring in Europe Memorial seminar, November 30th 2010, Rovaniemi, Finland
---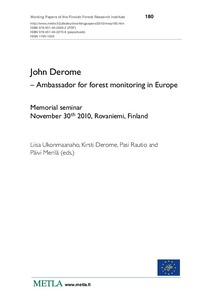 Toimittajat
Ukonmaanaho, Liisa
Derome, Kirsti
Rautio, Pasi
Merilä, Päivi
Julkaisusarja
Metlan työraporttejaWorking Papers of the Finnish Forest Research Institute
Numero
180
Sivut
44 p.
Finnish Forest Research Institute Metsäntutkimuslaitos
2010
Julkaisun pysyvä osoite on
http://urn.fi/URN:ISBN:978-951-40-2270-8
Kuvaus
Layout: Anne Siika
Tiivistelmä
The memorial seminar of John Derome, John Derome Ambassador for forest monitoring in Europe , is held in Rovaniemi, Finland November 30th, 2010. Dr. John Derome (1947 2010) had over a forty-year career as a research scientist in the Finnish Forest Research Institute. His research area covered a wide range of forest soil science, including studies on the soil effects of prescribed burning, fertilization, liming and air pollutants. He was also a dedicated member of the international ICP Forests monitoring community. The aim of the seminar is to put forward an outline of the scientific work in which John Derome was involved during his career and to discuss the continuity of his work. The program is divided into three sessions, which will cover the main topics of his studies in Finland (I) and in the Kola Peninsula area (II) and the last session is dedicated to his strong contribution to the ICP Forests monitoring programme (III). The speakers of the seminar were invited in advance and the abstracts of their presentations (10) are included in the abstract book as well as most of the poster session abstracts (15).