Review on Russian roundwood imports into Northern Europe 1993- 2008
Viitanen, Jari; Karvinen, Sari (2010)
---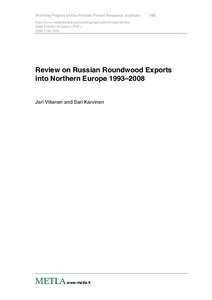 Viitanen, Jari
Karvinen, Sari
Julkaisusarja
Metlan työraporttejaWorking Papers of the Finnish Forest Research Institute
Numero
148
Sivut
38 p.
Finnish Forest Research Institute Metsäntutkimuslaitos
2010
Julkaisun pysyvä osoite on
http://urn.fi/URN:ISBN:978-951-40-2223-4
Tiivistelmä
This study reviews development of the Russian roundwood exports to main importing countries in Northern Europe. In addition to unit prices and traded volumes, this study also shortly describes the significance of imported Russian roundwood with respect to national roundwood markets in importing countries.According to the trade flows, majority of the roundwood from Russia has been traded to Scandinavia and around the Baltic Sea region. Especially, Finland and Sweden have been the most important roundwood importers from Russia. Although some amounts of roundwood from Russia have also been traded to Central Europe, their role and importance with respect to local forest production and removals have been only marginal.Due to its geographic location and lower logistic costs, Finland has typically paid lower import prices for Russian roundwood than the other importers. If the customs tariffs programme for Russian roundwood exports is coming into full effect in 2011 or later, it is clear that the effects on the national roundwood markets and the production possibilities for the traditional Nordic exporters of forest products such as Finland and Sweden are large. The Baltic States and their sawnwood industry will face a lack of logs. Also, termination of roundwood exports from Russia is likely to cause crucial rechanges in roundwood flows around the Baltic Sea region.