Bioeconomics of even- vs. uneven-aged forestry: the case of Norway spruce
Tahvonen, Olli; Pukkala, Timo; Laiho, Olavi; Lähde, Erkki; Niinimäki, Sami (2009)
---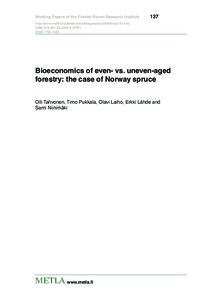 Tahvonen, Olli
Pukkala, Timo
Laiho, Olavi
Lähde, Erkki
Niinimäki, Sami
Julkaisusarja
Metlan työraporttejaWorking Papers of the Finnish Forest Research Institute
Numero
137
Sivut
25 p.
Finnish Forest Research Institute Metsäntutkimuslaitos
2009
Julkaisun pysyvä osoite on
http://urn.fi/URN:ISBN:978-951-40-2202-9
Tiivistelmä
An economic optimization model is specified to analyze forest management without any restrictions on the forest management system. The data on forest growth comes from unique field experiments and is used to estimate a nonlinear transition matrix or size structured model for Norway spruce. The model includes nonlinear density-dependent submodels for ingrowth, transition between the size classes, and natural mortality. The economic model includes detailed harvesting cost specifications and the optimization problem is solved in its most general dynamic form. In optimal uneven-aged management, the level of stand density is shown to be a cause of the density effects on natural regeneration. If the goal is volume maximization, even-aged management with artificial regeneration (and thinnings from above) is superior to uneven-aged management. After including regeneration and harvesting costs, the interest rate, and the price differential between saw timber and pulpwood, uneven-aged management becomes superior to even-aged management. In a forest management model with unrestricted thinning and natural regeneration the optimal rotation period increases with increases in the interest rate and cost of artificial regeneration and with decreases in timber price. When these parameter changes are high enough, the even-aged management solution always transforms into uneven-aged management.