Joensuu Forestry Networking Week 2009. Fighting Climate Change: Adapting Forest Policy and Forest Management in Europe. Group Work Reports and Conclusions. Joensuu, Finland, 24.5.-29.5.2009.
---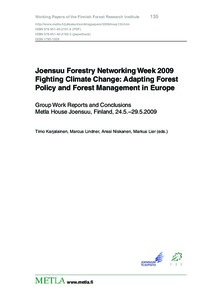 Toimittajat
Karjalainen, Timo
Lindner, Marcus
Niskanen, Anssi
Lier, Markus
Julkaisusarja
Metlan työraporttejaWorking Papers of the Finnish Forest Research Institute
Numero
135
Sivut
84 p.
Finnish Forest Research Institute Metsäntutkimuslaitos
2009
Julkaisun pysyvä osoite on
http://urn.fi/URN:ISBN:978-951-40-2192-3
Tiivistelmä
This issue of Metla s Working Papers is a compilation of the group work reports of the Joensuu Forestry Networking Week (JFNW) 2009 Fighting Climate Change: Adapting Forest Policy and Forest Management in Europe held in Metla House Joensuu, Finland from 24-29 May 2009. The main goal of the JFNW 2009 was to discuss the role of forestry in adapting to and mitigating climate change from the viewpoint of forest science and other scientific disciplines, with a special focus on forest policy and forest management. Priorities for actions at the local, national and European levels were made, and regional differences within Europe were described.The group work was an important component of JFNW 2009. The objective of the group work was to improve participants expertise and knowledge on how forest policies, forest management, forest research and forest extension can be developed for better adaptation and mitigation to climate change. As a result of the group work the participants wrote a short report on how climate change and forest interaction should be considered in the formulation of forest policy, forest management, forest research and forest extension. JFNW 2009 was the first of what is planned to be an annual event. It was judged to be a great success and created a new research network to accelerate new research projects and activities in this field. Altogether 55 participants from 17 countries participated in the first event.JFNW 2009 was organized jointly by the Finnish Forest Research Institute (Metla), the European Forest Institute (EFI) and the University of Joensuu, Faculty of Forestry in co-operation with the COST Action: Expected Climate Change and Options for European Silviculture (ECHOES). Metla acted as the responsible host organization for the first JFNW 2009. The event was sponsored by the COST Office, the Federation of Finnish Learned Societies (TSV), the Finnish Ministry of Agriculture and Forestry, the City of Joensuu, and the Regional Council of North Karelia. Metsämiesten Säätiö financed the release of this JFNW publication.