Adapting forest management to maintain the environmental services: carbon sequestration, biodiveristy and water. Abstracts and programme of an international conference at Koli National Park, Finland in 21. 24.9.2009
---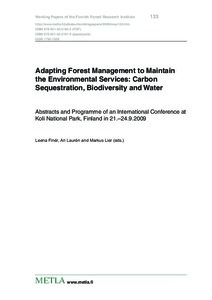 Toimittajat
Finér, Leena
Laurén, Ari
Lier, Markus
Julkaisusarja
Metlan työraporttejaWorking Papers of the Finnish Forest Research Institute
Numero
133
Sivut
94 p.
Finnish Forest Research Institute Metsäntutkimuslaitos
2009
Julkaisun pysyvä osoite on
http://urn.fi/URN:ISBN:978-951-40-2187-9
Tiivistelmä
This paper compiles the programme and the abstracts of the international scientific conference Adapting Forest Management to Maintain the Environmental Services: Carbon Sequestration, Biodiversity and Water held in the Koli National Park from the 21st to 24th of September 2009. The focus of the conference is the impacts of forest management on the environmental services carbon sequestration, biodiversity and water protection. More specific aims are: a) to present an overview of current research on environmental services in forest management, b) to quantify the environmental impact of different management strategies and practices in order to support decision-making, and c) to improve the awareness of the environmental services provided by forests. The conference was arranged by the Nordic Centre of Advanced Research on Environmental Services (CAR-ES) funded by SNS during 2004-2009 (http://www.nordicforestry-cares.org). This international conference will broaden the discussion on the environmental services provided by forests and it will present the achievements of CAR-ES to a wide international scientific audience. The conference is attended by 50 scientists and several stakeholders. Some selected papers presented at the conference will be published in a special issue of the scientific international journal Silva Fennica.