6th International Symposium on Ecosystem Behaviour BIOGEOMON 2009 Conference Programme & Abstracts
---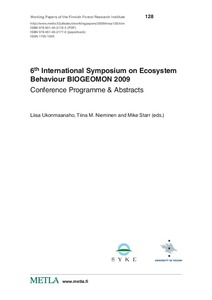 Toimittajat
Ukonmaanaho, Liisa
Nieminen, Tiina M.
Starr, Mike
Julkaisusarja
Metlan työraporttejaWorking Papers of the Finnish Forest Research Institute
Numero
128
Sivut
522 p.
Finnish Forest Research Institute Metsäntutkimuslaitos
2009
Julkaisun pysyvä osoite on
http://urn.fi/URN:ISBN:978-951-40-2176-3
Sisällysluettelo
Myös Sessiot 16 eri tiedostona
Tiivistelmä
The 6th international Symposium on Ecosytem Behaviour, BIOGEOMON 2009, is held at Helsinki, Finland, in June 29th July 3rd 2009. BIOGEOMON s primary goals are to provide a forum for the dissemination and discussion of recent research findings, to explore future directions for biogeochemical research, and to foster interdisciplinary collaboration between researchers of all ages and countries. There were altogether over 400 registrated participants representing 32 different countries, including both internationally renowned scientists and postgraduate students.The meeting was hosted by The Finnish Forest Research Institute (Metla), the University of Helsinki, and the Finnish Environment Institute (SYKE) in association with the Czech Geological Survey (CR), Villanova University (USA), the University of Reading (UK) , the Geological Survey of Finland (GTK), and the Finnish Meteorological Institute (FMI). The information presented by the speakers during the meeting sessions, as well as by the numerous posters is collected into this publication in the form of abstracts. BIOGEOMON s emphasis is on biogeochemistry as an evolving and integrated discipline, including research at the watershed, landscape and global scales. Beside traditionally emphasized themes, topical issues are raised in each BIOGEOMON symposium. In Helsinki these issues are peatland biogeochemistry, environmental impacts of bioenergy production, atmosphere forest interactions, and biogeochemistry of trace metals.