Scientific Seminar on Forest Condition Monitoring and Ecosystem Functioning in Northern Europe under the Forest Focus and ICP Forests programmes, Vantaa 27. 28.11.2007, Proceedings
---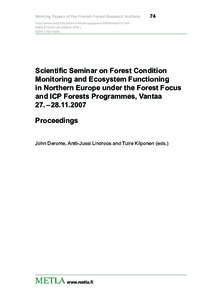 Toimittajat
Derome, John
Lindroos, Antti-Jussi
Kilponen, Terhi
Julkaisusarja
Metlan työraporttejaWorking Papers of the Finnish Forest Research Institute
Numero
74
Sivut
62 p.
Finnish Forest Research Institute Metsäntutkimuslaitos
2008
Julkaisun pysyvä osoite on
http://urn.fi/URN:ISBN:978-951-40-2088-9
Tiivistelmä
The scientific seminar, held during 27. 28.11.2007 in Vantaa, Finland, was attended by 45 researchers from Denmark, Estonia, Finland, Norway, Russia and the UK who are participating in the EU/Forest Focus and UN-ECE/ICP Forests extensive and intensive forest monitoring programmes. The purpose of the meeting was to provide a forum where the researchers could present the results of the monitoring work and scientific studies carried out over the last two decades in northern Europe within the framework of the programmes. The presentations covered a wide range of topics including the optimization of techniques for monitoring carbon stocks and biodiversity in large-scale surveys, long-term changes in forest health, foliar, deposition and soil solution chemistry, carbon, nitrogen and nutrient fluxes in boreal forests, and nutrient and acidification processes in forest soils.