Forest condition monitoring in Finland National report 2002 -2005
---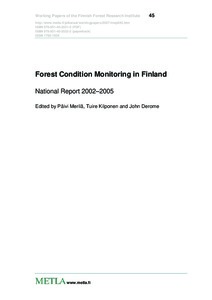 Toimittajat
Merilä, Päivi
Kilponen, Tuire
Derome, John
Julkaisusarja
Metlan työraporttejaWorking Papers of the Finnish Forest Research Institute
Numero
45
Sivut
166 p.
Finnish Forest Research Institute Metsäntutkimuslaitos
2007
Julkaisun pysyvä osoite on
http://urn.fi/URN:ISBN:978-951-40-2031-5
Tiivistelmä
Since 1985 Finland has been participating in the Pan-European forest condition monitoring programme the International Co-operative Programme on the Assessment and Monitoring of Air Pollution Effects on Forests (ICP forests) which is based on international agreements on the long-range transportation of air pollutants (LRTAP). In member countries of the European Union, forest condition monitoring is based on regulations enacted in 1986, 1994 and 2003. In Finland, the Finnish Forest Research Institute (Metla) is responsible for carrying out annual forest vitality and health surveys on a 610 permanent plot network (Level I, extensive monitoring), and for studying the relationships between forest condition and air pollution and other stress factors on a network of 31 stands located throughout the country (Level II, intensive monitoring). This report presents the results of monitoring carried out under the Finnish Forest Focus/ICP Forests programmes during 2002 to 2004/5 as well as the results of other studies of forest condition in Finland.