Assessment of energy wood resources in the Leningrad region
Gerasimov, Yuri; Goltsev, Vadim; Ilavský, Ján; Tahvanainen, Timo; Karjalainen, Timo (2006)
---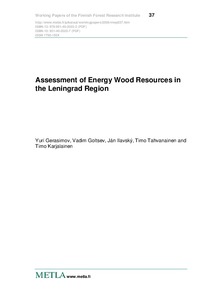 Gerasimov, Yuri
Goltsev, Vadim
Ilavský, Ján
Tahvanainen, Timo
Karjalainen, Timo
Julkaisusarja
Metlan työraporttejaWorking Papers of the Finnish Forest Research Institute
Numero
37
Sivut
80 p.
Finnish Forest Research Institute Metsäntutkimuslaitos
2006
Julkaisun pysyvä osoite on
http://urn.fi/URN:ISBN:978-951-40-2022-3
Tiivistelmä
Possibilities for energy wood procurement in the Leningrad region are assessed in this report. As sources for energy production, wood from thinnings, logging residues, non-industrial round wood and residues from sawmilling are considered. The costs for energy wood procurement are also calculated. Available energy wood, based on the 2004 actual cut, if collected, is approximately 4 million m3. Nearly 86% of it is non-industrial round wood and felling residues in cutting areas (56%) and central processing yards (30%), the rest (14%) are by-products from sawmilling. The deciduous tree species (birch and aspen) dominate and are valued at 65% of the total amount of felling residiues and non-industrial wood. It is possible to intensify utilisation of forest resources and thereby also to increase the use of wood in energy production. The total amount could be 54% higher if the allowable cut could be utilised completely and 124% higher if thinnings could also be utilised completely. There are, however, big differences within the region, as the current rate of utilisation of forest resources varies in the region. Currently, pre-commercial thinning is an economically unfeasible source of energy wood. Despite well developed technologies, the high costs of the pre-commercial thinning make supply of energy wood unprofitable. Commercial thinnings are economically more attractive as sources of energy wood. However, a choice of energy wood procurement chain for the 1st commercial thinning is limited by cost factors. There are more possibilities for energy wood supply from the 2nd commercial thinning. The most cost-efficient supply chain based on a harvester and a forwarder allows a profitable energy wood supply from a distance of up to 150 km. Currently, at final felling areas non-industrial wood is an economically feasible resource for energy production. The same applies to the availability of process residues at central processing yards and sawmills, where lump wood and slabs are the most cost-efficient resources for wood chip production and at present these sources of energy wood look very attractive. The issue of how much energy wood may enter the market depends almost entirely on the market situation, i.e. supply and demand, which is influenced by the price of energy wood and competing energy sources.