Factors affecting investments in Northwest Russian forest sector and industry
Holopainen, Päivi; Ollonqvist, Pekka; Viitanen, Jari (2006)
---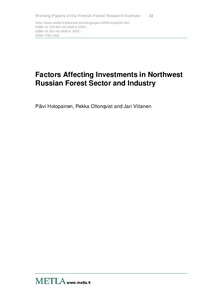 Holopainen, Päivi
Ollonqvist, Pekka
Viitanen, Jari
Julkaisusarja
Metlan työraporttejaWorking Papers of the Finnish Forest Research Institute
Numero
32
Sivut
49 p.
Finnish Forest Research Institute Metsäntutkimuslaitos
2006
Julkaisun pysyvä osoite on
http://urn.fi/URN:ISBN:978-951-40-2009-4
Tiivistelmä
While most of the equipments, machinery and capacity investments in Russian forest sector dates back to 1970 s, they are mostly out-of-date, wastefully, environmentally damaging and the productivity of them is weak. Domestic possibilities to finance forest investments in Russia are still under developing, and the forest sector is not attractive among Russian investors due to the more profitable sectors such as energy, technology and metal clusters. Therefore, the forest sector calls urgently for forest investments to develop, to create more value added production and to survive in international competition in final product markets. Along with the global profit maximisation many foreign forest enterprises have established especially in Northwest Russia during 1990 s and 2000 s. However, most of these investments are of small-scale (saw- and veneer mills, packaging plants), and they can be seen as pilot investments to test market environment and, especially, the working of wood procurement.This study shortly considers the factors affecting foreign forest sector investments in Russia, and especially in Northwest Russia. The viewpoint is mostly of Finnish forest enterprises and investors. Forest resources, competitive other factors of production and developing domestic final product markets can be seen as supporting factors for forest investments in Russia. Also, the vertical integration strategies and wood procurement of international forest companies over the national boarders are important factors to determine the location of investments. The impeding factors in Russia are incompleteness of Forest Code giving at the moment unclear rules for forest leasing, management and silviculture, unpredictable political system and trade policy, deteriorating external price competitiveness in international markets, business culture and weak infrastructure.