An analysis of logging companies in the Republic of Karelia
Gerasimov, Yuri; Siounev, Vladimir; Chikulaev, Pavel; Pechorin, Vladimir; Dyakonov, Victor; Komkov, Victor; Sikanen, Lauri; Karjalainen, Timo (2005)
---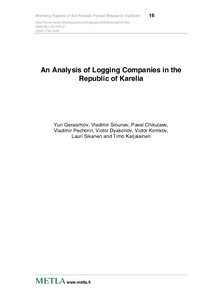 Gerasimov, Yuri
Siounev, Vladimir
Chikulaev, Pavel
Pechorin, Vladimir
Dyakonov, Victor
Komkov, Victor
Sikanen, Lauri
Karjalainen, Timo
Julkaisusarja
Metlan työraporttejaWorking Papers of the Finnish Forest Research Institute
Numero
16
Sivut
39 p.
Finnish Forest Research Institute Metsäntutkimuslaitos
2005
Julkaisun pysyvä osoite on
http://urn.fi/URN:ISBN:951-40-1973-3
Tiivistelmä
Logging in the Republic of Karelia has changed rapidly during the last 10 years. As a result, traditional Russian wood harvesting systems are currently used side-by-side with Nordic ones. The aim of this study was to collect data on the current state of logging companies in Karelia and to demonstrate how new business environments, and their economic, social and ecological impacts have forced logging companies to up-date technology, machinery and management. Logging companies in Karelia were interviewed by students of the Petrozavodsk State University during 2004. The companies data were organised into 4 clusters based on the geographical location of the companies. Two to three companies are represented by every cluster. The framework for the questionnaires included technological, social and ecological components. The information and SWOT analysis provided a broad overview of the wood procurement situation for logging companies across Karelia. The results indicated an acute shortage of forest resources for wood supply development in Karelia. The implementation of both a progressive forest management system and the Nordic cut-to-length method is needed. The social, educational, economic, and environmental challenges faced by logging companies in Karelia should be taken into account.