Human behaviour can trigger large carnivore attacks in developed countries
Penteriani, Vincenzo; del Mar Delgado, Maria; Pinchera, Francesco; Naves, Javier; Fernandez-Gil, Alberto; Kojola, Ilpo; Härkönen, Sauli; Norberg, Harri; Frank, Jens; Fedriani, Jose Maria; Sahlen, Veronica; Støen, Ole-Gunnar; Swenson, Jon E.; Wabakken, Petter; Pellegrini, Mario; Herrero, Stephen; Lopez-Bao, Jose Vicente (2016)
---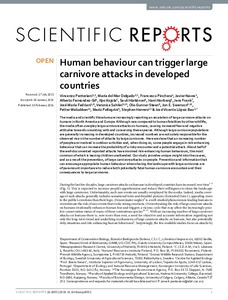 Penteriani, Vincenzo
del Mar Delgado, Maria
Pinchera, Francesco
Naves, Javier
Fernandez-Gil, Alberto
Kojola, Ilpo
Härkönen, Sauli
Norberg, Harri
Frank, Jens
Fedriani, Jose Maria
Sahlen, Veronica
Støen, Ole-Gunnar
Swenson, Jon E.
Wabakken, Petter
Pellegrini, Mario
Herrero, Stephen
Lopez-Bao, Jose Vicente
Julkaisusarja
Scientific Reports
Volyymi
6
Sivut
8 p
Nature Publishing Group
2016
by
http://www.nature.com/srep/journal-policies/editorial-policies#license-agreement
Scientific Reports does not require authors to assign copyright of their published original research papers to the journal. Articles are published under a CC BY license (Creative Commons Attribution 4.0 International License). The CC BY license allows for maximum dissemination and re-use of open access materials and is preferred by many research funding bodies. Under this license users are free to share (copy, distribute and transmit) and remix (adapt) the contribution including for commercial purposes, providing they attribute the contribution in the manner specified by the author or licensor (read full legal code).