Habitat Effects on the Breeding Performance of Three Forest-Dwelling Hawks
Björklund, Heidi; Valkama, Jari; Tomppo, Erkki; Laaksonen, Toni (2015)
---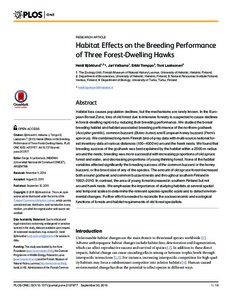 Björklund, Heidi
Valkama, Jari
Tomppo, Erkki
Laaksonen, Toni
Julkaisusarja
PLoS ONE
Volyymi
10
Numero
9
Sivut
e0137877
Plos
2015
by
http://journals.plos.org/plosone/s/content-license
Under this license, authors agree to make articles legally available for reuse, without permission or fees, for virtually any purpose. Anyone may copy, distribute or reuse these articles, as long as the author and original source are properly cited. Using PLOS Content No permission is required from the authors or the publishers to reuse or repurpose PLOS content provided the original article is cited. In most cases, appropriate attribution can be provided by simply citing the original article.
Julkaisun pysyvä osoite on
http://urn.fi/URN:NBN:fi-fe2016091523762
Tiivistelmä
Habitat loss causes population declines, but the mechanisms are rarely known. In the European Boreal Zone, loss of old forest due to intensive forestry is suspected to cause declines in forest-dwelling raptors by reducing their breeding performance. We studied the boreal breeding habitat and habitat-associated breeding performance of the northern goshawk (Accipiter gentilis), common buzzard (Buteo buteo) and European honey buzzard (Pernis apivorus). We combined long-term Finnish bird-of-prey data with multi-source national forest inventory data at various distances (100-4000 m) around the hawk nests. We found that breeding success of the goshawk was best explained by the habitat within a 2000-m radius around the nests; breeding was more successful with increasing proportions of old spruce forest and water, and decreasing proportions of young thinning forest. None of the habitat variables affected significantly the breeding success of the common buzzard or the honey buzzard, or the brood size of any of the species. The amount of old spruce forest decreased both around goshawk and common buzzard nests and throughout southern Finland in 1992-2010. In contrast, the area of young forest increased in southern Finland but not around hawk nests. We emphasize the importance of studying habitats at several spatial and temporal scales to determine the relevant species-specific scale and to detect environmental changes. Further effort is needed to reconcile the socioeconomic and ecological functions of forests and habitat requirements of old forest specialists.