Small tails tell tall tales - intra-individual variation in the stable isotope values of fish fin
Hayden, Brian; Soto, David X.; Jardine, Tim D.; Graham, Brittany S.; Cunjak, Richard A.; Romakkaniemi, Atso; Linnansaari, Tommi (2015)
---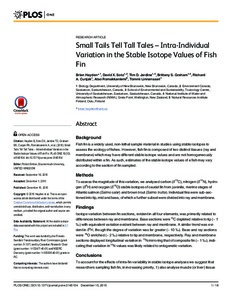 Hayden, Brian
Soto, David X.
Jardine, Tim D.
Graham, Brittany S.
Cunjak, Richard A.
Romakkaniemi, Atso
Linnansaari, Tommi
Julkaisusarja
PLoS ONE
Volyymi
10
Numero
12
Sivut
18 p
Public Library of Science
2015
by
http://journals.plos.org/plosone/s/content-license
Under this license, authors agree to make articles legally available for reuse, without permission or fees, for virtually any purpose. Anyone may copy, distribute or reuse these articles, as long as the author and original source are properly cited. Using PLOS Content No permission is required from the authors or the publishers to reuse or repurpose PLOS content provided the original article is cited. In most cases, appropriate attribution can be provided by simply citing the original article.