Finnish Forest and Energy Policy Model (FinFEP) : A Model Description
Lintunen, Jussi; Laturi, Jani; Uusivuori, Jussi (2015)
---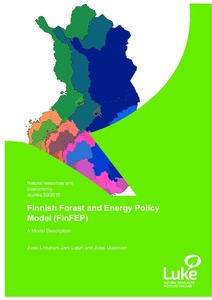 Lintunen, Jussi
Laturi, Jani
Uusivuori, Jussi
Julkaisusarja
Natural resources and bioeconomy studies
Numero
59/2015
Sivut
31 s.
Luonnonvarakeskus (Luke)
2015
Julkaisun pysyvä osoite on
http://urn.fi/URN:ISBN:978-952-326-119-8
Tiivistelmä
Finnish Forest and Energy Policy model (FinFEP) is a partial equilibrium model of the Finnish forest and
energy sectors. The processing technologies of the two sectors are based on plant-level data. The approach
falls into the bottom-up modeling tradition. In addition to the processing sectors, the model
consists of a detailed description of forest resources on forestry land available for wood production in
Finland. The model generates harvesting behavior based on optimized management rules and the state
of the forest resources. In line with the usual CGE modeling convention, we formulate the partial equilibrium
of the two sectors as a mixed complementarity problem (MCP). In this report, we describe the
modeling approach in detail level, and give examples of applications that the model can be used for.