AINTEGUMENTA and the D-type cyclin CYCD3;1 regulate root secondary growth and respond to cytokinins
Randall, Ricardo S.; Miyashima, Shunsuke; Blomster, Tiina; Zhang, Jing; Elo, Annakaisa; Karlberg, Anna; Immanen, Juha; Nieminen, Kaisa; Lee, Ji-Young; Kakimoto, Tatsuo; Blajecka, Karolina; Melnyk, Charles W.; Alcasabas, Annette; Forzani, Celine; Matsumoto-Kitano, Miho; Mähönen, Ari Pekka; Bhalerao, Rishikesh; Dewitte, Walter; Helariutta, Ykä; Murray, James A. H. (2015)
---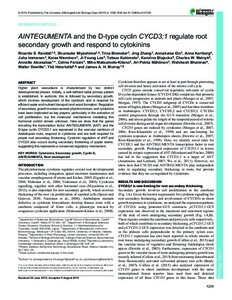 Randall, Ricardo S.
Miyashima, Shunsuke
Blomster, Tiina
Zhang, Jing
Elo, Annakaisa
Karlberg, Anna
Immanen, Juha
Nieminen, Kaisa
Lee, Ji-Young
Kakimoto, Tatsuo
Blajecka, Karolina
Melnyk, Charles W.
Alcasabas, Annette
Forzani, Celine
Matsumoto-Kitano, Miho
Mähönen, Ari Pekka
Bhalerao, Rishikesh
Dewitte, Walter
Helariutta, Ykä
Murray, James A. H.
the Company of Biologists
2015
by
http://bio.biologists.org/content/rights-permissions
Biology Open (BiO) is a fully (author-pays) Open Access journal. All articles are published under the CC-BY license and deposited into PMC for immediate release. We are also a member of CHORUS and will ensure that your article complies with US public access mandates. If you pay for Open Access publication and we fail to fulfil these Open Access commitments, an APC rebate is available – please contact the editorial office.