Models for predicting stand development in MELA System
Hynynen, Jari; Ojansuu, Risto; Hökkä, Hannu; Siipilehto, Jouni; Salminen, Hannu; Haapala, Pekka (2002)
---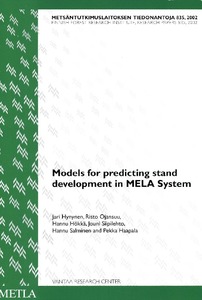 Hynynen, Jari
Ojansuu, Risto
Hökkä, Hannu
Siipilehto, Jouni
Salminen, Hannu
Haapala, Pekka
Julkaisusarja
Metsäntutkimuslaitoksen tiedonantoja
Numero
835
Sivut
116 s.
Metsäntutkimuslaitos
2002
Julkaisun pysyvä osoite on
http://urn.fi/URN:ISBN:951-40-1815-X
Tiivistelmä
This document addresses the models that are developed to be applicable in the simulation of stand development for forest management planning purposes. A detailed description is provided of the models predicting regeneration, growth and mortality, together with auxiliary models required for the simulation of stand development.

Models were developed to be applicable for the all tree species and on all the forest site types throughout the Finland. The model input were restricted to those variables that are measurable in large-scale forest inventories. Extensive data from repeatedly measured inventory growth plots and permanent sample plots were used in the model development. Most of the models in the simulation system can be categorized as individual-tree, distance independent models.

After model building they were evaluated and calibrated using the temporary sample plot data from the 8th National Forest Inventory. The purpose was to calibrate the predicted growth to the average level obtained from the growth measurements of national forest inventory, and obtain the growth predictions also for those tree species, and site types that were poorly represented in the modelling data.
Collections