North-south differentiation and a region of high diversity in European wolves (Canis lupus)
Stronen, Astrid V.; Jędrzejewska, Bogumiła; Pertoldi, Cino; Demontis, Ditte; Randi, Ettore; Niedzialkowska, Magdalena; Pilot, Małgorzata; Sidorovich, Vadim E.; Dykyy, Ihor; Kusak, Josip; Tsingarska, Elena; Kojola, Ilpo; Karamanlidis, Alexandros A.; Ornicans, Aivars; Lobkov, Vladimir A .; Dumenko, Vitalii; Czarnomska, Sylwia D. (2013)
---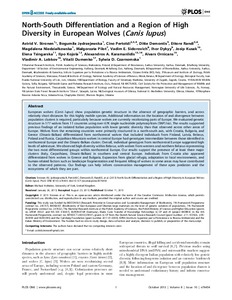 Stronen, Astrid V.
Jędrzejewska, Bogumiła
Pertoldi, Cino
Demontis, Ditte
Randi, Ettore
Niedzialkowska, Magdalena
Pilot, Małgorzata
Sidorovich, Vadim E.
Dykyy, Ihor
Kusak, Josip
Tsingarska, Elena
Kojola, Ilpo
Karamanlidis, Alexandros A.
Ornicans, Aivars
Lobkov, Vladimir A .
Dumenko, Vitalii
Czarnomska, Sylwia D.
Julkaisusarja
PLoS ONE
Volyymi
8
Numero
10
Sivut
9 p
2013
by
http://journals.plos.org/plosone/s/content-license
PLOS applies the Creative Commons Attribution (CC BY) license to works we publish. This license was developed to facilitate open access – namely, free immediate access to, and unrestricted reuse of, original works of all types. Under this license, authors agree to make articles legally available for reuse, without permission or fees, for virtually any purpose. Anyone may copy, distribute or reuse these articles, as long as the author and original source are properly cited. Using PLOS Content No permission is required from the authors or the publishers to reuse or repurpose PLOS content provided the original article is cited. In most cases, appropriate attribution can be provided by simply citing the original article.