Finnish Agriculture and Rural Industries 2015
---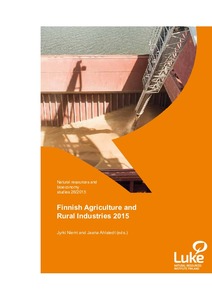 Toimittajat
Niemi, Jyrki
Ahlstedt, Jaana
Julkaisusarja
Natural resources and bioeconomy studies
Numero
26/2015
Sivut
99 p.
Luonnonvarakeskus
2015
Julkaisun pysyvä osoite on
http://urn.fi/URN:ISBN:978-952-326-028-3
Tiivistelmä
This is the 37th time that the annual review of Finnish agriculture and rural industries is published. The first review was published in 1979 by the Agricultural Economics Research Institute of Finland, which in 2001 was merged into MTT Agrifood Research Finland. Since the beginning of 2015, MTT has been part of the Natural Resources Institute Finland, having merged with the Finnish Forest Research Institute, the Finnish Game and Fisheries Research Institute and the statistical services of the Information Centre of the Ministry of Agriculture and Forestry. Due to the merger, this review is released in the publication series of the Natural Resources Institute Finland.As in the previous years, the review presents the current outlook for the sectors covered and the most recent research data in a single volume. It provides comprehensive information on the operating environment in agriculture and the food sector, the development of the agricultural and food markets, agricultural policy, the economic situation in agriculture, interaction between rural areas and the environment, and the socio-economic development of rural areas.The publication's special theme is foreign trade in food and other agricultural products, since the growing deficit in Finland's food trade has attracted a great deal of attention in recent years. Concerns over the modest growth rate of Finland's food exports have been frequently expressed in public debate. Export promotion has therefore been set as an important goal.Thematic articles explore reasons that explain, on the one hand, why Finland's food exports have grown slowly and, on the other, why imported food has gained a significant foothold in the Finnish food market. Other topics include the ongoing free trade negotiations between the EU and the US, and the related opportunities and problems from the food sector's perspective.I hope our readers in and outside Finland will find this report useful.