Loss of diversity in wood-inhabiting fungal communities affects decomposition activity in Norway spruce wood
Valentín, L.; Rajala, T.; Peltoniemi, M.; Heinonsalo, J.; Pennanen, T.; Mäkipää, R. (2014)
---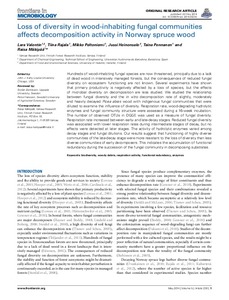 Valentín, L.
Rajala, T.
Peltoniemi, M.
Heinonsalo, J.
Pennanen, T.
Mäkipää, R.
Julkaisusarja
Frontiers in Terrestrial Microbiology
Volyymi
5
Sivut
23011 p
2014
by
http://journal.frontiersin.org/journal/all/section/terrestrial-microbiology#about
Open Access funder and institutional mandates: Frontiers is fully compliant with open access mandates, by publishing its articles under the Creative Commons Attribution licence (CC-BY). Funder mandates such as those by the Wellcome Trust (UK), National Institutes of Health (USA) and the Australian Research Council (Australia) are fully compatible with publishing in Frontiers. Authors retain copyright of their work and can deposit their publication in any repository. The work can be freely shared and adapted provided that appropriate credit is given and any changes specified.