Ecological and social dimensions of ecosystem restoration in the Nordic countries
Hagen, D.; Svavarsdottir, K.; Nilsson, C.; Tolvanen, A.K.; Raulund-Rasmussen, K.; Aradòttir, À.L.; Fosaa, A.M.; Halldorsson, G. (2013)
---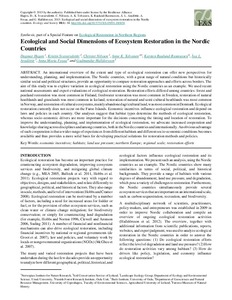 Hagen, D.
Svavarsdottir, K.
Nilsson, C.
Tolvanen, A.K.
Raulund-Rasmussen, K.
Aradòttir, À.L.
Fosaa, A.M.
Halldorsson, G.
Julkaisusarja
Ecology and Society
Volyymi
18
Numero
4
Sivut
14 p
2013
by
http://www.ecologyandsociety.org/about/policies.php#openaccess
This journal provides open access to all of its content on the principle that making research freely available to the public supports a greater global exchange of knowledge. Users may read, download, and link to any article. Authors, or where required by law, their employers, retain copyright. Please contact them for permission should you want to reuse their work.