Effect of Puumala hantavirus infection on human umbilical vein endothelial cell hemostatic function: platelet interactions, increased tissue factor expression and fibrinolysis regulator release
Goeijenbier, Marco; Meijers, Joost C. M.; Anfasa, Fatih; Roose, Jeroen M.; van de Weg, Cornelia A. M.; Bakhtiari, Kamran; Henttonen, Heikki; Vaheri, Antti; Osterhaus, Albert D. M. E.; van Gorp, Eric C. M.; Martina, Byron E. E. (2015)
---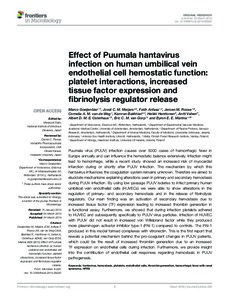 Goeijenbier, Marco
Meijers, Joost C. M.
Anfasa, Fatih
Roose, Jeroen M.
van de Weg, Cornelia A. M.
Bakhtiari, Kamran
Henttonen, Heikki
Vaheri, Antti
Osterhaus, Albert D. M. E.
van Gorp, Eric C. M.
Martina, Byron E. E.
Julkaisusarja
Frontiers in Microbiology
Volyymi
6
Numero
220
Sivut
12 p
Frontiers Research Foundation
2015
by
http://journal.frontiersin.org/journal/microbiology#about
Open Access funder and institutional mandates: Frontiers is fully compliant with open access mandates, by publishing its articles under the Creative Commons Attribution licence (CC-BY). Funder mandates such as those by the Wellcome Trust (UK), National Institutes of Health (USA) and the Australian Research Council (Australia) are fully compatible with publishing in Frontiers. Authors retain copyright of their work and can deposit their publication in any repository. The work can be freely shared and adapted provided that appropriate credit is given and any changes specified.