Djurens välfärd på finländska minkfarmer - resultat av farmbesök. Pälsfarm 2020 -projektet
Ahola, Leena; Huuki, Hanna; Koistinen, Tarja; Mononen, Jaakko (2014)
---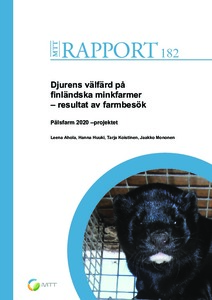 Ahola, Leena
Huuki, Hanna
Koistinen, Tarja
Mononen, Jaakko
Julkaisusarja
MTT Rapport
Numero
182
Sivut
53 p.
MTT
2014
Julkaisun pysyvä osoite on
http://urn.fi/URN:ISBN:978-952-487-592-9
Tiivistelmä
Pälsfarm 2020 – Pälsdjurs välfärdsprojekt (TT2020-projektet) genomfördes av Forskningscentralen för
jordbruk och livsmedelsekonomi MTT och Östra Finlands universitet. Ett mål i projektet var att utreda
nivån på pälsdjurens välfärd på finländska räv- och minkfarmer. I TT2020-projektet utnyttjades och
testades utvärderingsmetoder för djurens välfärd som utvecklats i det allmäneuropeiska WelFur-projektet
(s.k. WelFur-protokoll) på rävar och minkar. I den här rapporten presenteras resultaten av
välfärdsutvärderingarna för rävfarmernas del.
Sex utvärderare av välfärd som utbildats i TT2020-projektet samt fyra forskare och forskningsbiträden
som arbetade i TT2020-projektet (och WelFur-projektet) utvärderade minkarnas välfärd på 39 pälsfarmer
under tiden mellan hösten 2012 och vintern 2014. Utvärderingarna gjordes enligt minkprotokollet under
tre olika perioder i produktionsomloppet: på vintern, sommaren och på hösten. På två minkfarmer gjordes
utvärderingen emellertid endast två gånger och totalt utvärderades minkarnas välfärd under 115 besök.
I genomsnitt var välfärdsproblemen på minkfarmerna rätt så små. På största delen av farmerna
observerades inga problem alls vid flera enskilda mätare. På enstaka farmer kunde emellertid förekomma
till och med många problem. De mest typiska välfärdsproblemen hos minkar var stereotypt beteende,
pälsbitning och diarré.
The project Turkistila 2020 – Welfare of Farmed Fur Animals (TT2020) was implemented by MTT
Agrifood Research Finland and University of Eastern Finland. One of its objectives was to examine the
level of animal welfare of farmed foxes and minks in Finland. TT2020 utilized and tested the welfare
assessment methods developed for farmed foxes and mink in the European cooperation project WelFur
(the so-called WelFur protocols). This report presents the results of the welfare assessments of mink
farms.
Six welfare assessment experts, trained within the TT2020 project, as well as four researchers and
research assistants working in TT2020 (and WelFur) carried out the welfare assessments on 39 mink
farms between the autumn 2012 and the winter 2014. The assessments took place in the three different
production periods in fur farming, in accordance with the welfare assessment protocol for farmed mink:
in the winter, summer and autumn. However, the assessment was carried out in only two production
periods on two mink farms. All in all, there were 115 animal welfare assessment visits on mink farms.
On an average, there were quite few animal welfare problems on mink farms. A large number of farms
had no problems in several animal welfare criteria. On the other hand, some farms had quite a lot of
problems. The most typical welfare problems in mink included stereotypic behaviour, fur-chewing and
diarrhoea.