Adaptations to climate-mediated selective pressures in sheep
Lv, Feng-Hua; Agha, Saif; Kantanen, Juha; Colli, Licia; Stucki, Sylvie; Kijas, James W.; Joost, Stéphane; Li, Meng-Hua; Marsan, Ajmone (2014)
---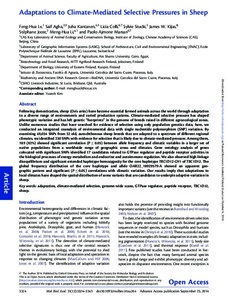 Lv, Feng-Hua
Agha, Saif
Kantanen, Juha
Colli, Licia
Stucki, Sylvie
Kijas, James W.
Joost, Stéphane
Li, Meng-Hua
Marsan, Ajmone
Julkaisusarja
Molecular Biology and Evolution
Volyymi
31
Numero
12
Sivut
3324-3343
Oxford university press
2014
by
http://www.oxfordjournals.org/en/access-purchase/rights-and-permissions.html
Articles published under our Oxford Open - Open Access model are clearly labeled, and made freely available online immediately upon publication, without subscription barriers to access. In addition, the majority of articles that are made available under Oxford Open, will also allow readers to reuse, republish, and distribute the article in a variety of ways, depending upon the license used. For further detail on Oxford Open and the activities permitted under our Open Access licenses, please click here.