Human and environmental wellbeing : streamlining the policy approach
Risku-Norja, Helmi; Irz, Xavier; Kurppa, Sirpa; Ovaskainen, Marja-Leena; Nummela, Olli; Rauhanen, Timo; Pinolehto, Marja; Vorne, Virpi (2014)
---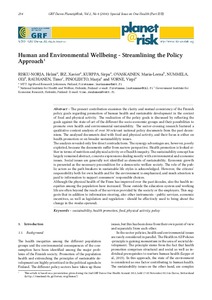 Risku-Norja, Helmi
Irz, Xavier
Kurppa, Sirpa
Ovaskainen, Marja-Leena
Nummela, Olli
Rauhanen, Timo
Pinolehto, Marja
Vorne, Virpi
Julkaisusarja
Planet@Risk
Volyymi
2
Numero
4
Sivut
254-265
GRF Davos
2014
Julkaisun pysyvä osoite on
http://urn.fi/URN:NBN:fi-fe2014100845085
Kuvaus
Special Issue on One Health (Part II/II)
2014
Tiivistelmä
The present contribution examines the clarity and mutual consistency of the Finnish
policy goals regarding promotion of human health and sustainable development in the context of food and physical activity. The realization of the policy goals is discussed by reflecting the goals against the state-of-art of the different the socio-economic groups and their possibilities to promote own health and environmental sustainability. The sector-crossing research featured a qualitative content analysis of over 30 relevant national policy documents from the past decennium.
The analysed documents deal with food and physical activity, and their focus is either on health promotion or on broader sustainablilyty issues.
The analysis revealed only few direct contradictions. The synergy advantages are, however, poorly exploited, because the documents suffer from narrow perspective. Health promotion is looked either in terms of nutrition and physical activity or of health inequity. the sustainability concept has largely remained abstract, concrete expressions dealing mostly with environmental and economic issues. Social issues are generally not identified as elements of sustainability. Economic growth is presented as the necessary precondition for a democratic welfare society. The role of the public
actors as the path breakers in sustainable life styles is acknowledged. However, the citizens' responsibility both for own health and for the environment is emphasized, and much attention is paid to information to support consumers' responsible choices.
Although the physical health of the Finns has improved over the past decades, also the health inequities among the population have increased. Those outside the education system and working life are often beyond the reach of the services provided by the society or the employers. Ths suggests that in addition to information steering, also other instruments - public services, economic incentives, as well as legislation and regulation - should be effectively used to bring about the change in the modus operandi.