Milk production and physiological responses to concentrate supplementation of dairy cows grazing timothy-meadow fescue swards
Sairanen, Auvo (2014)
---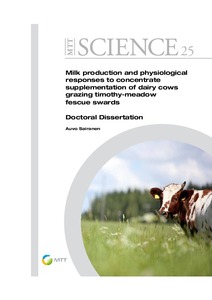 Julkaisusarja
MTT Science
Numero
25
Sivut
42 p. + appendix
MTT
2014
Julkaisun pysyvä osoite on
http://urn.fi/URN:ISBN:978-952-487-525-7
Tiivistelmä
This thesis comprises reports on experiments in which the effects of
concentrate supplementation and part-time grazing on milk production and
rumen physiology were studied. Cows were fed timothy-meadow fescue (Phleum
pratense-Festuca pratensis) grass in confinement (one experiment) or by grazing
at pasture (eight experiments). Parttime grazing studies (two experiments) included
feeding grass silage and grazing at pasture. The amount of concentrate varied
between 0 and 12 kg/d and it consisted of grain (mainly barley and oats, three
experiments) or pelleted concentrate mixture (five experiments).
The main objectives of the study were to determine the overall marginal response
functions of full-time grazed cows to increasing amounts of concentrate supplementation, and to clarify differences in rumen physiology between silage and
grazed-pasture diets. The additional objectives were to study part-time grazing
as an alternative summer-feeding strategy, and to study limiting factors for intake under grazing conditions. Grass intake at pasture was defined using
a sward-cutting method. The measured amount of grass intake in milk-production
studies at pasture was smaller than the amounts based on estimated intake ac-
Milk production and physiological responses to concentrate supplementation of dairy cows grazing timothy-meadow fescue swards cording to feed recommendations or modelled intake. Low-substitution rate with increasing concentrate supplementation at
pasture suggests that forage intake could be limited in grazing situations despite
the high quality and availability of fresh grass. Unnecessarily high crude protein
(CP) content of the pasture diet could limit the herbage intake, but the more probable
reason for limited intake may be related to pasture-management factors.
Rumen dry matter (DM) pool size increased with increasing grass indigestible
neutral detergent fibre (iNDF) content, and with decreasing degradation rate (kd)
of potentially digestible neutral detergent fibre (pdNDF). High-digestibility forage
at pasture is low in iNDF content and high in kd of pdNDF, which enables high intake
without rumen-fill limitation. Rumen iNDF pool size was possibly not a limiting
factor with high digestibility pasture diets, at least for the mid-lactation cows
used in this study. Grass iNDF content described well the differences in rumen fermentation when the results between fresh and ensiled grass were compared. High rumen ammonia concentration, originating from high CP content, was typical for herbage of grazedpasture diets. The use of low iNDF-content grass increased molar proportions of 4 MTT SCIENCE 25 butyrate and propionate in the rumen fluid,
whereas that of acetate decreased. The changes in acetate and butyrate occurred
in parallel with increasing concentrate supplementation. The physiological part of
this study, however, did not include high amounts of concentrates and this limits
the overall conclusions. Microbial protein synthesis was high with pasture diets and
this decreases the need for protein supplementation. The benefits of protein supplementation to cows at pasture may, therefore, be limited.
The milk yield increased quadratically with increasing amount of concentrate
supplementation. Both the maximum milk yield and energy corrected milk (ECM)
yield was reached with 12 kg concentrate, which was the highest level used. The responses to concentrate supplementation did not differ markedly between the silage
diet used as the reference and that of grazed grass of comparable forage digestibility.
The effect of milk production level on the response of concentrate supplementation
was so small during most of the lactation period that it is reasonable to use
a flat-rate concentrate feeding strategy for full-time grazed cows.
Supplementing silage with grazed grass at pasture increased the milk yield of cows
in the part-time grazing experiments. The difference was most evident with the
night-time grazed group, whereas the daytime grazed group had higher milk yields
than the silage group only during the last half of the grazing season. The digestibility
of grazed grass at the beginning of the day-time grazing experiment was lowered,
and the grazing time was also shorter than in the case of the night-time grazing experiment. These results showed that parttime grazing maintained or increased milk
yield when concentrate and silage were fed separately, a moderate amount of concentrate was used (less than 40% of total feed on a DM basis), and the energy content of grazed grass was higher than silage. Parttime grazing seems to be an appropriate strategy for Finnish conditions.
Tutkimus sisältää yhdeksän erillistä lypsylehmien ruokintakoetta, joidentavoitteena oli tutkia väkirehun tuotosvastetta, laidunruohon syöntiä rajoittavia pötsifysiologisia tekijöitä sekä osa-aikalaidunstrategiaa. Kuudessa kokeessa lehmät laidunsivat kokoaikaisesti, kahdessa kokeessa käytettiin osa-aikalaidunta ja yhdessä kokeessa käytettiin niittoruokintaa. Osa-aikalaidunkokeissa sisäruokintana oli vapaa nurmisäilörehu. Kaikissa kokeissa käytetty nurmi oli timotei-nurminataseosta. Lypsyn yhteydessä jaettava
väkirehu (0-12 kg/pv) oli viidessä kokeessa täysrehua ja kolmessa kokeessa ohra-kaura-
rypsirouhe seosta.
Laidunrehun syönti mitattiin määräalaniittotekniikalla kahdessa kokeessa. Mitattu
määrä oli pienempi verrattuna karkearehun syönnin ennustemalliin tai ruokintanormeihin perustuvaan syönninennusteeseen. Samoin määräalaniitolla mitattu laitumen korvaussuhde väkirehumäärän lisääntyessä oli suhteellisen matala. Laidunrehun syönnin rajoitus suhteessa maitotuotokseen selittäisi osaltaan näitä havaintoja. Tämä siitä huolimatta, että nurmen sulavuus oli korkea ja nurmirehua oli periaatteessa riittävästi saatavilla. Laidundieetin korkea raakavalkuaispitoisuus voi olla yksi selittävä tekijä
syönnin rajoitukseen, mutta todennäköisin syy löytyy laiduntamisen käytännön
toteutuksesta.
Fysiologisen osatutkimuksen perusteella pötsin kuiva-ainepooli lisääntyi nurmen
sulamattoman kuidun (iNDF) pitoisuuden noustessa. Samoin kasvuasteen vanhetessa
kuidun sulatusnopeuden aleneminen lisäsi pötsin kuiva-ainepoolia. Laidunruokinnalla
varhaisesta kasvuasteesta johtuen nurmen iNDF pitoisuus on matala ja kuidun
sulatusnopeus puolestaan on korkea. Pötsin kuiva-ainepooli tai iNDF pooli ei täten
todennäköisesti muodostu syöntiä rajoittavaksi tekijäksi, mikä mahdollistaa runsaan
laidunrehun syöntimäärän.
Nurmen iNDF pitoisuus selitti eroja pötsifermentaatiossa verrattaessa laidunruokintaa
ja kirjallisuuskatsaukseen perustuvaa nurmisäilörehuruokintaa. Laidunruokinnan
korkea raakavalkuaispitoisuus selitti korkeaa pötsin ammoniakkipitoisuutta.
Matalakuituinen laidunnurmi lisäsi voihapon ja propionihapon mooliosuuksia
pötsinesteessä verrattuna kirjallisuuden perusteella saatuihin säilörehuruokinnan
mooliosuuksiin. Samansuuntaiset muutokset saatiin väkirehun osuutta nostamalla.
Tämän tutkimuksen fysiologisessa osiossa valitettavasti ei käytetty korkeita väkirehumääriä, jotka olisivat olleet tärkeitä johtopäätösten kannalta. Mitattu mikrobiproteiinisynteesi pötsissä oli niittoruokinnalla korkea. Korkea mikrobisynteesi
yhdessä laidunnurmen korkean raakavalkuaisen kanssa puoltavat mahdollisuutta
vähentää lisävalkuaisruokintaa laitumella.
Maitotuotos nousi käyräviivaisesti väkirehutason noustessa. Suurin maitotuotos
sekä suurin energiakorjattu maitotuotos saavutettiin korkeimmalla väkirehutasolla,
12 kg/pv. Tässä tutkimuksessa mitatut väkirehuvasteet laidunruokinnalla ja
kirjallisuuteen perustuvat väkirehuvasteet säilörehuruokinnalla eivät poikenneet merkittävästi toisistaan, kun nurmirehun sulavuusotetaan huomioon. Laktaatiovaiheen
merkitys väkirehuvasteisiin oli pieni aivan loppulypsykautta lukuun ottamatta, mikä
puoltaa tasaväkirehumallin käyttöä ympärivuorokautisessa laidunruokinnassa.
Maitotuotokset osa-aikalaitumella olivat joko korkeampia tai samaa tasoa säilörehuruokintaan verrattuna. Erot laidunrehun sulavuudessa kesän eri aikoina selittivät
maitotuotoseroja laidun- ja säilörehuruokinnan välillä. Laidunruokinnan maitotuotosta
lisäävä tulos on yleistettävissä silloin, kun käytössä on enimmillään tämän tutkimuksen mukainen, korkeintaan 40 prosentin väkirehuosuus ruokinnassa ja laidunrehun sulavuus on säilörehua korkeampi. Osa-aikalaidun on tämän tutkimuksen mukaan toimiva laidunnusmuoto Suomen olosuhteissa.