Regional P stocks in soil and in animal manure as compared to P requirement of plants in Finland : Baltic Forum for Innovative Technologies for Sustainable Manure Management. WP4 Standardisation of manure types with focus on phosphorus
Ylivainio, Kari; Sarvi, Minna; Lemola, Riitta; Uusitalo, Risto; Turtola, Eila (2014)
---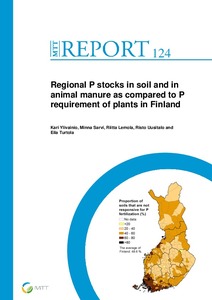 Ylivainio, Kari
Sarvi, Minna
Lemola, Riitta
Uusitalo, Risto
Turtola, Eila
Julkaisusarja
MTT Report
Numero
124
Sivut
35 p
2014
Julkaisun pysyvä osoite on
http://urn.fi/URN:ISBN:978-952-487-505-9
Tiivistelmä
Phosphorus (P) is an essential plant nutrient and sufficient availability is sustained by soil reserves and fertilization. On the other hand, P leaching from agricultural fields causes eutrophication of the surface waters. Therefore, soil P levels and P fertilization should be adjusted according to plant need to minimize P leaching.
In this study we evaluated P requirement of plant production (cereals and grasses) at a municipality level to reach 95 % of the maximum yields. Soil test P (STP; acid ammonium acetate, pH 4.65) and content of P in manures were taken into account when estimating the regional P stocks and comparing them to the requirement for P fertilization. STP values originated from soil samples (total of 1 008 302 samples) taken by farmers from their own fields and analyzed at the soil testing laboratories in 2005-2009. These samples represent cultivated field area (92 %) that is participating in Finnish Agri-Environmental Program. Numbers of the production animals within the municipalities were obtained from the Information Centre of the Ministry of Agriculture and Forestry (TIKE), The Finnish trotting and breeding association, Saga Furs Oyj and Kopenhagen Fur. Information of the total amount of P excreted into the manure was estimated according to the feeding trials conducted at MTT Agrifood Research Finland.
Average STP value for the cultivated soils was 13.0 mg l-1 and for clay, coarser textured mineral and organic soils the average STP values were 12.3, 13.9 and 9.8 mg l-1, respectively. About half of the fields (49 %) had such a high STP value that P fertilization is unlikely to provide yield response. Least responsive soils for P fertilization were clay (69 % were nonresponsive), followed by coarse textured mineral soils (47 %) and organic soils (14 %). In the regional level, the shares of nonresponsive fields for P fertilization were highest in Southwest Finland (73 %) and in Åland (76 %).
Content of P in animal manures in Finland was 17.5 million kg in 2011, originating mainly from cattle (9.8 million kg), pigs (3.6), fur animals (1.8) and poultry (1.5). Most of the manure P was produced in the Ostrobothnia region (42 %). Manure P equaled to 8.8 kg ha-1, if spread evenly across all cultivated fields (excluding fallow) in Finland, whereas the P requirement of plants was 8.6 kg ha-1. However, in addition to manure P, 5.6 kg ha-1 of mineral P fertilizer was sold in 2011.
To depress the loading potential, P fertilization should be adjusted according to plant requirement, which would lower high STP values. At the moment manure P content would be enough for plant P requirement, with no need for mineral P fertilizer, if manure could be spread to areas with actual need for P. However, this will require novel methods for manure processing to make P transportation economically viable. Moreover, current Finnish legislation allows P use that is not optimal from the view of neither plant production nor the environment.
Fosfori on välttämätön kasvinravinne, jonka saatavuus riippuu mm. maan helppoliukoisen fosforin pitoisuudesta ja fosforilannoituksesta. Fosforilannoitus ja maan helppoliukoinen fosfori vaikuttavat myös fosforin huuhtoutumisriskiin. Fosforihuuhtoumien minimoimiseksi fosforilannoitus tulisi tarkentaa kasvien tarpeen mukaiseksi.
Tässä tutkimuksessa selvitettiin alueellinen fosforilannoitustarve pyrittäessä 95 %:iin maksimisadosta ja huomioiden maassa olevat fosforireservit (viljavuusuuttoinen fosfori) sekä kunnassa muodostuva lantafosforin määrä. Peltolohkojen viljavuusanalyysitiedot koostuivat viljelijöiden vuosina 2005-2009 ottamista ja viljavuuslaboratorioiden analysoimista maanäytteistä (1 008 302 maanäytettä). Kuntakohtaiset eläinmäärät toimittivat Tilastokeskus (TIKE), Suomen Hippos ry, Saga Furs Oyj ja Kopenhagen Fur. Eläinten lannan sisältämä fosforimäärä arvioitiin perustuen MTT:n ruokintakokeisiin.
Suomalaisten peltolohkojen keskimääräinen fosforiluku oli 13,0 mg l-1. Maalajeittain ryhmiteltynä vastaavat fosforiluvut savimailla, karkeammilla kivennäismailla ja orgaanisilla mailla olivat 12,3, 13,9 ja 9,8 mg l-1. Noin puolessa analysoiduista maanäytteistä (49 %) fosforin saatavuus ei ollut kasvin kasvua rajoittava tekijä, toisin sanoen näillä mailla ei ole fosforilannoitusvastetta viljaa tai nurmea viljeltäessä. Maalajeittain tarkasteltuna vastaavat osuudet savimaille, karkeammille kivennäismaille ja orgaanisille maille olivat 69, 47 ja 14 %. Manner-Suomen ELY-keskuksista Varsinais-Suomen alueella on eniten peltolohkoja (73 %), missä fosfori-lannoituksella ei saada satovastetta. Ahvenanmaalla vastaava osuus on 76 %.
Kotieläinlannan sisältämä fosforimäärä oli 17,5 milj. kg vuonna 2011, koostuen pääasiassa naudan- (9,8 milj. kg), sian- (3,6), turkiseläin- (1,8) ja kananlannasta (1,5). Suurin osa lantafosforista (42 %) muodostui Pohjanmaalla. Lantafosforia riittäisi viljellylle peltopinta-alalle tasaisesti levitettynä 8,8 kg ha-1, kun koko lannoitustarve on 8,6 kg ha-1. Lantafosforin lisäksi väkilannoitefosforia käytettiin 5,6 kg ha-1 vuonna 2011.
Koska peltojen fosforiluvulla on merkittävä vaikutus fosforin huuhtoutumispotentiaaliin, olisi fosforilannoitus säädettävä kasvien tarpeen mukaiseksi. Näin voitaisiin aikaa myöten alentaa maan fosforilukuja ja vähentää fosforin huuhtoutumista. Tällä hetkellä lantafosforilla voitaisiinkin korvata väkilannoitefosforin käyttö kokonaan. Tämä vaatii kuitenkin lantafosforin kuljettamista kauemmaksi lannan syntysijoilta, mikä ei nykyisillä tekniikoilla ja hintasuhteilla ole taloudellisesti kannattavaa. Myös ympäristölainsäädäntö sallii nykymuotoisen fosforin käytön.