A conceptual framework for prioritization of invasive alien species for management according to their impact
Kumschick, Sabrina; Bacher, Sven; Dawson, Wayne; Heikkilä, Jaakko; Sendek, Agnieszka; Pluess, Therese; Robinson, Tamara B.; Kuhn. Ingolf (2012)
---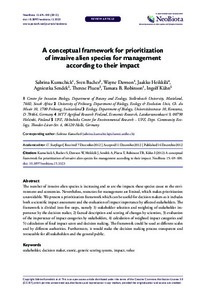 Kumschick, Sabrina
Bacher, Sven
Dawson, Wayne
Heikkilä, Jaakko
Sendek, Agnieszka
Pluess, Therese
Robinson, Tamara B.
Kuhn. Ingolf
Julkaisusarja
Neobiota
Volyymi
15
Sivut
69-100
2012
by
Julkaisun pysyvä osoite on
http://urn.fi/URN:NBN:fi-fe201702021440
Tiivistelmä
The number of invasive alien species is increasing and so are the impacts these species cause to the environment and economies. Nevertheless, resources for management are limited, which makes prioritization unavoidable. We present a prioritization framework which can be useful for decision makers as it includes both a scientific impact assessment and the evaluation of impact importance by affected stakeholders. The framework is divided into five steps, namely 1) stakeholder selection and weighting of stakeholder importance by the decision maker, 2) factual description and scoring of changes by scientists, 3) evaluation of the importance of impact categories by stakeholders, 4) calculation of weighted impact categories and 5) calculation of final impact score and decision making. The framework could be used at different scales and by different authorities. Furthermore, it would make the decision making process transparent and retraceable for all stakeholders and the general public.