Cryopreservation of hairy root cultures from Maesa lanceolata
Lambert, Ellen; Geelen, D. (2008)
---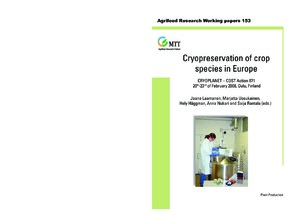 Lambert, Ellen
Geelen, D.
Julkaisusarja
Agrifood Research Working papersMTT:n selvityksiä
Numero
153
Sivut
s. 53
MTT
2008
Kuvaus
v
ok
Myynti MTT, Tietopalvelut 31600 Jokioinen
Tiivistelmä
Maesa lanceolata is a medicinal shrub growing in the tropics of Africa and Asia. It produces a number of different saponins for which was shown tat they exert antiviral, hemolytic, molluscicidal and anti-angiogenic activities (1, 2). To evaluate the production of saponins in Maesa lanceolata grown under in vitro conditions, hairy roots were established. In vitro culture of hairy roots is, however, labor intensive and expensive, and there is a risk of contamination and genetic changes. Because of this we are currently developing a protocol for cryopreservation of root tips.